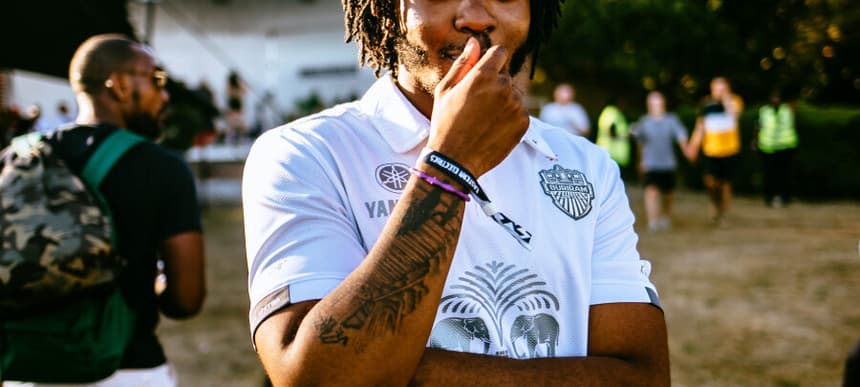 23.09.2020, Words by Felicity Martin
Dummy Mix 599 | DJ Bempah
67's DJ blends some of the hottest tunes in UK rap and drill right now...
When it comes to UK rap and drill, DJ Bempah is your go-to guy. Hosting the Scary Things bi-weekly show on NTS, a favourite show on the station among listeners, his razor-sharp selection skills earned him a spot as the tour DJ for drill pioneers 67, which has found him hitting up stages all over the globe, as well as becoming a fixture on Skepta's worldwide tour as LD's selector. Fellow DJ and radio programmer Martha described Scary Things to us as "my favourite radio show of all time. The playlists are always bursting with new music, Bempah's mixing is forever on-point and the chat has me cracking up."
More recently, Bempah's 'Drill Mix Vol 1' came out on blood red cassette as the second release on Felix Hall's Chrome label, and is now – predictably – sold out. As someone for whom the phrase 'ear to the ground' rings especially true, we hit up Bempah for our mix series, and he delivered, stitching together some of the biggest hits in the game right now (think Digga D's 'Woi', Dutchavelli's 'Bando Diaries' and Pop Smoke (RIP) tracks), alongside deeper cuts that only real heads will know. Press play and strap in.
Tracklist:
Tion Wayne ft. Dutchavelli & Stormzy – I Dunno
Backroad Gee ft. Pa Salieu & Ambush – Party Popper
M1llionz – No Rap Cap
Fivio Foreign & Rich The Kid – Richer Than Ever
Travis Scott ft. Pop Smoke – GATTI
Smoove L' – Apollo
Central Cee – Day In The Life
Digga D – Woi
BGody – PTSD
Sai So 37 – Demon Time
Fivio Foreign – Wetty
Pop Smoke – Invincible
Pop Smoke (ft. Fivio Foreign) – Sweetheart
M1llionz – Lagga
Abra Cadabra – On Deck
Abra Cadabra, RV, Kush, Double Lz, Bandokay, Lowkey, Dezzie – On Deck (Remix)
Kwengface – Aunties
Dave – Paper Cuts
Dutchavelli – Bando Diaries
K Trap – Private Snap
Ivorian Doll – Body Bag
Frosty x OFB – Hate On Us
Sai So 37 – How
Gully – Video Vixen
SJ – Youngest In Charge
M1llionz – Y PREE Y PREE
Frosty – Super Trapper
Teeway – Tramp
Ambush – Tommy Shelby
M24 – No Cap
67 SJ – OCD
Headie One x Drake – Only You Freestyle
Listen to the mix on Soundcloud.
Follow our weekly-refreshed UK RAP DRILL & GRIME playlist.
Read next: The 10 Best UK Rap Tracks Of All Time, according to Smoke Boys