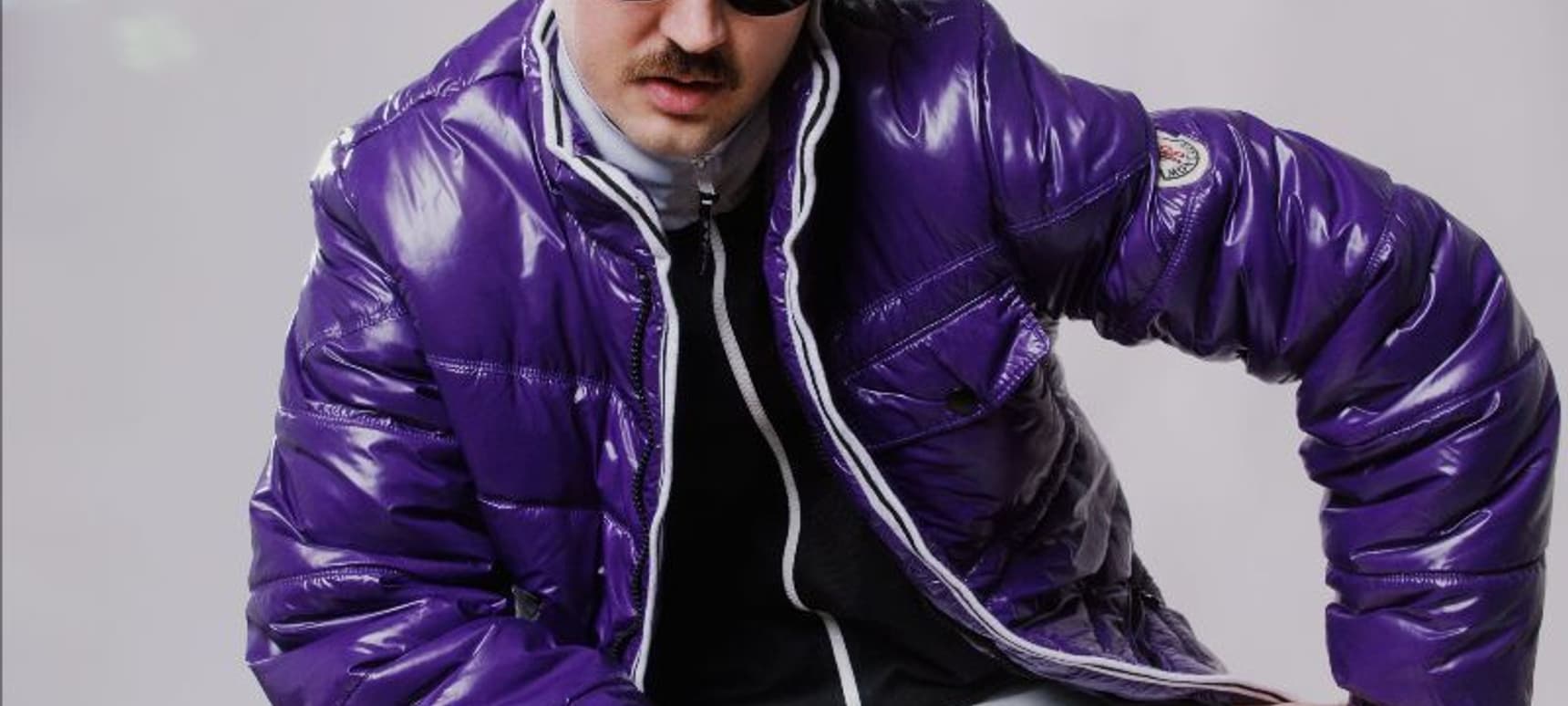 20.11.2020, Words by Felicity Martin
Dummy Mix 605 | Dance System
"I'm absolutely loving everything super funky and tough, and wanted to get that across in the mix."
Not long ago, James Connolly hung up his L-Vis 1990 moniker and stepped out as Dance System: an outlet for the freakier, funnier kind of music that wouldn't fit under the Night Slugs co-founder's original banner. Put simply, Dance System makes some of the funnest music we've heard all year, all popping riffs, disco jams, and off-your-face melters engineered specifically for the sort of clubnight you'll lose your marbles at. Released today, 20-track mixtape 'Where's The Party At?' is out today, a slamming mix of trax front-loaded with collaborations from Sally C, to Cromby, DJ Deeon, Big Miz and many more. There's a KG and Simbad collab that sounds like a 2020 version of 'Gypsy Woman'.
Stamped with his signature character of Poochi, the cartoon hypnotised puppy that graces all DS releases, it's a record that deserves to be sent shooting through speakers at parties this weekend – despite the unfortunate timing, Dance System's is a record that'll surely eventually get its proper dues. "The project has been in the back of my head since early last year, but as soon as lockdown hit I thought it would be the perfect time to pick it up again," he explains. "It was our way of connecting and escaping the madness happening in the world. Each of the artists I chose to work with has a quality or energy that I feel is part of the Dance System ethos. The end result is such an incredible mix of people from different sides of dance music; I'm so proud to have them all together on one project."
The release comes with the launch of his own System Records, a label he describes as wanting "to feel like one big party where artists feel free to come express their fun side." With an EP promised from Funky T in the new year, an "absolute stormer," he adds he just had a call with a couple of "very big artists that want to join the fun". He continues: "Much like with Night Slugs, I want to provide a platform for brand new artists and I already have some in development, many you can hear in the mix; Doulas Rothschild (Baltimore), Guchon (Tokyo), DJBT (Netherlands), ABCDJ (Chicago) and Kyle Starkey (UK)."
"This was my first time on the decks for months," Dance System says of his Dummy Mix. "I've just been working solidly on the launch of System Records and finishing up my new mixtape, so this is the sound of me letting loose and having fun! It felt so good to get back to it. I've been listening to so many old mixtapes and live mixes on youtube over lockdown from the likes of DJ Dan, Badboy Bill, Trevor Rockcliffe and Dave Angel. I'm absolutely loving everything super funky and tough, and wanted to get that across in the mix."
Strap in below.
Tracklist:
Douglas Rothschild – In My Body
Dj Tonka – Flashback
Dj Deeon – Orgy XXX
DJ Sneak – Ya Know
Dance System & India Jordan – Let's Go!
16 C+ – Onder 4 Ever (Trevor Rockcliffe Remix)
Guchon – Ramen Track
Ed Sergi – Soul Mind Body
Dance System – Take Me Up
K2 – Brighter Days (Kaytronic Dub Mix)
DJBT – Coffee Tool
Dance System & Lauren Flax – Beat Them
Mike Dunn – Damn U All
Dance System & Alex Virgo – Flight Muzik
Kyle Starkey – Dance 4 Me
DJBT & ABCDJ – La Musica
Dance System & Hudson Mohawke – Hands In The Air