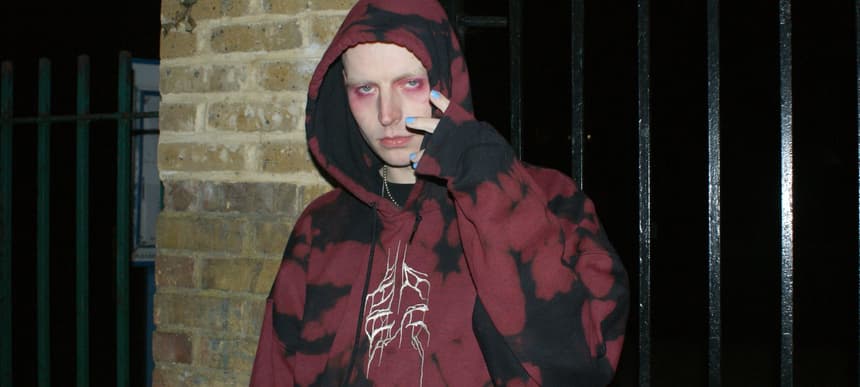 14.04.2021, Words by dummymag
Dummy Mix 615 | phonewifey
It's a searing blend of high octane dance energy from phonewifey and their collaborators
Within the UK, there's a small but growing scene of so-called hyperpop artists making chaotic, genre-less sounds. Initially inspired by the sounds of the late SOPHIE, Danny L Harle and the rest of the PC Music crew, as well as the off-kilter pop of Charli XCX and 100 gecs, a crop of young, hungry producers are forging their own sound and community. One of these is London's phonewifey, who we've been working with via our DMY Artists and whose sounds span '00s guitar ballads as well as slamming UK rave. They've since been championed by Spotify's looked-to hyperpop playlist.
We called on phonewifey to helm the latest in our mix series, and the result is an almost 100% production mix, along with music from close collaborators. "My mix focuses on material surrounding my two releases of 2021 so far," phonewifey says. "In the first half I play some tracks from my rave-pop EP 'HARD YEAR', and also some releases and exclusives by the other artists that featured on that record (CY AN, ERSATZ, Melly, teenslasher91, Kakoushka and Traitor).
"In the second half I play some songs by Nosgov and xoxoswitch who both featured on my recent two-track 'want u/that was low', including some never-before-heard exclusives." Strap in for the strobe-lit sounds of phonewifey and friends below.
Tracklist:
phonewifey – HARD YEAR ft. CY AN
phonewifey, CY AN & ERSATZ – SUPER HOLLYWOOD
phonewifey – HIT 'EM WITH A POLE ft. ERSATZ
phonewifey & Kakoushka – Dido's Lament (Purcell Cover)
TEAM ft. Traitor, teenslasher91, Melly, ERSATZ & Kakoushka
P.S. 4080 & WORSTWORLDPROBLEMS – Sorry Not Sorry
Nosgov – Goes Nowhere
phonewifey & Nosgov – Unlikely
JacobyMccrayTM & Nosgov – Lonely
xoxoswitch – Love or H8? ft. Senses & Nosgov
phonewifey & xoxoswitch – SLEEP WHEN YOU'RE DEAD
xoxoswitch – Find Myself (filtered outro)