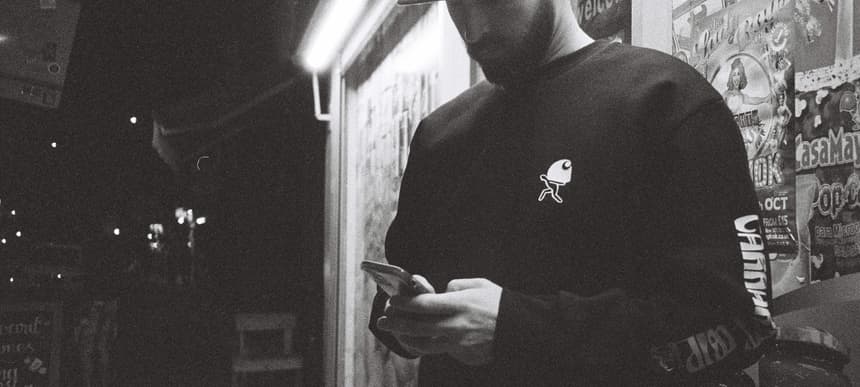 29.09.2021, Words by Maisie Goulsbra
Dummy Mix 622 | NOTION
NOTION cartwheels between high energy bassline, buoyant Garage, and old jungle favourites, weaving in brand new unreleased material.
Bristol DJ and producer NOTION is a pretty notable name in the UK's bass music scene – though he's solidly cemented himself as a big player within bassline, with Holy Goof collaborations and plenty of his own material, he has also crossed over into Grime, Garage (with Conducta collabs), 140 (via White Peach Records), and dnb, with various releases and DJ sets over the years. Growing up, he developed an early interest in dance music and songwriting through a four-track recorder gifted to him by his Dad.
For his upcoming debut album 'Outsider', NOTION had a desire to rely less on features, which led him to invite his social media followers, who he recognised as a musically-inclined bunch, to submit vocals for him to use. Not only was this a way for him to form a real connection to fans during lockdown, it was a way in which he could support artists through his own platform. On the album, we'll also see a feature from Nottingham grime legend Snowy; 'Cherry', a breakbeat-sliced euphoric dnb cut is NOTION's most recent single, and it follows bass house track 'FOUND LOVE' featuring the honey-sweet vocals of singer Carrie Baxter.
For his Dummy mix, NOTION cartwheels between high energy bassline, buoyant Garage, and leads listeners out with some old Jungle favourites – weaving them in with brand new unreleased material from himself. Prepare your gunfingers, listen below.
Tracklist:
NOTION – 'Pirate'
BROCK UK – 'All The Massive'
DOUVELLE19 – 'Malia'
GEMI – 'KSNG'
DOMMIX – 'KOTJ'
CHAMPION x MINA – 'XYLA'
NOTION – ID
CHRIS LORENZO – 'Every Morning'
NOTION – ID
NOTION – ID
NOTION – ID
PEVERELIST – 'Roll With The Punches' (Tenshu Refix)
DEADMAU5 – 'Drama Free' FT. Lights (Chris Lorenzo Remix)
MATTIK – 'Crazy In Love' Edit
NOTION x MPH – ID
BIZZI – 'Bizzi's Party' (Booker T Vocal Lick)
NOTION – ID
NOTION – ID
DJ BIGGA D – Mind, Body & Soul
NOTION – ID
ARMA – 'Shot Calla' (135 Redux)
NOTION – ID
CHRIS LORENZO x AC SLATER – 'Fly With Us'
NOTION FT. SNOWY – ID
NOTION – ID
NOTION – 'FOUND LOVE'
NU BASS & DEPPZ – 'Knock Knock'
OPPIDAN – 'Renegade Master'
JOYRYDE – 'GOT REAL' Ft. Mika Means
TAIKI NULIGHT x JACK BEATS – ID
NOTION – ID
RANDOMER – 'Stupid Things I Do' (New School Remix)
DJ NARROWS – 'Saved Soul'
ARMA – 'Lady Saw' Carti Edit
BAADWRK x DIGITAL KOALA – 'Let You Go'
TOP CAT – 'Ruffest Gun Ark' (DJ Rap Remix)
HEDEX – 'London'
RONI SIZE – 'It's A Jazz Things'
NOTION – 'Cherry'
DISCLOSURE – 'ENERGY' (Clipz Remix)
LTJ BUKEM – 'Atlantis'
Listen to the mix on SoundCloud here.
Stream 'Cherry' on your preferred service here.
Read next: The 10 Best Bassline Anthems, according to Jamie Duggan.