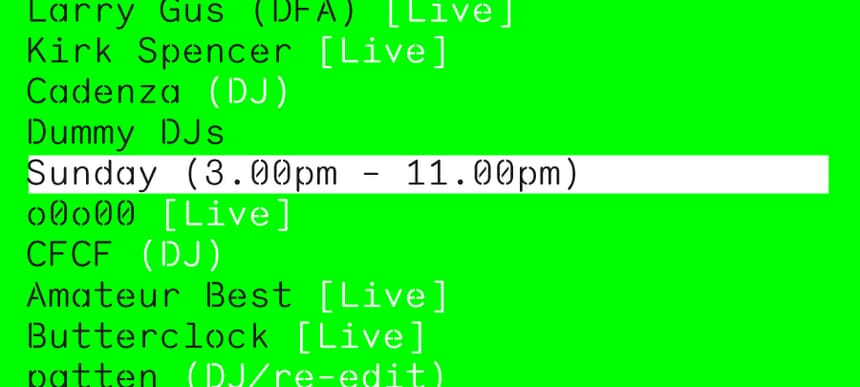 12.09.2013, Words by Aimee Cliff
Dummy Picks 010 // Dummy AGM
Since Dummy rebooted with a brand new website earlier in the summer, we've been hankering for a chance to properly celebrate – and now it seems that chance is upon us.
On Saturday 28th and Sunday 29th September we'll be taking to London Fields Brewery for our Dummy AGM (Artist General Meeting), where we'll be enjoying the sounds of some of our favourite pop pioneers, including Warp trio Darkstar and San Francisco producer oOoOO.
As a primer for any attendees that may be unfamiliar with some of the artists joining us on the day, we've put together this mix featuring some of the performers. We have psychedelic sounds from DFA boy Larry Gus, Kyle Hall's ace remix of Darkstar's mini-classic Aidy's Girl Is A Computer, a cover of Rick Ross' Hustlin' by Butterclock (which is somehow incredible), and odd bobbins from Brolin and Tirzah (who will be playing our AGM with pal Micachu).
Check the mix out on the left-hand side, and read the tracklist below.
Tickets for Saturday 28th (5pm-4am) will set you back £10, while Sunday 29th (3pm-11pm) tickets are £8. A ticket for the whole weekender is £15. You can get tickets from Biletto or Seetickets online. Or, if you're in the area, you can pick some up directly from either Rough Trade East or Tap Room, the bar at London Fields Brewery.
Tracklist:
Tirzah – Ooo Never
Brolin – Portland
Aaliyah – 4 Page Letter (CFCF remix)
Butterclock feat. oOoOO – Hustling (Rick Ross cover)
oOoOO – 3.51am
Larry Gus – Percival Seascapes
Rainer – Girls
Amateur Best – Too Much
patten – Blush Mosaic
Darkstar – Aidy's Girl Is A Computer (Kyle Hall remix)
Dummy AGM will take place at London Fields Brewery on September 28th and 29th.