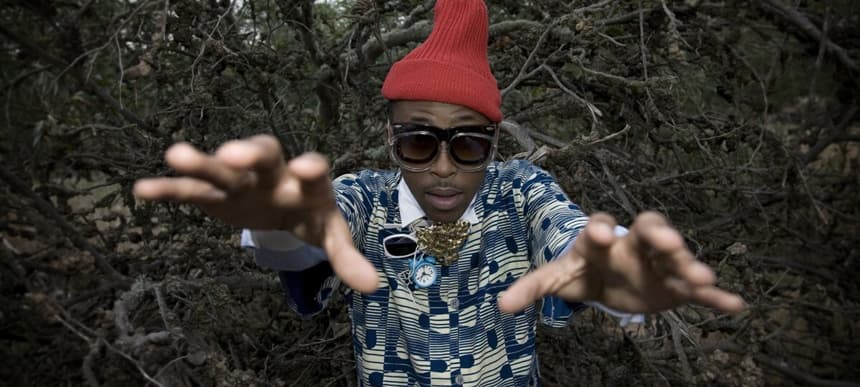 03.10.2013, Words by Aimee Cliff
Premiere: Spoek's 'Slime Time, Dummy!' Mix
We recently featured a mix from Metronomy bassist and producer Olugbenga as part of the Diesel+EDUN initiative Studio Africa, a project that aims to bring together and support musicians who hail from or are influenced by Africa; also under Studio Africa's wing was Johannesburg rapper/producer/singer/LV-collaborator Spoek Mathambo, who was given the opportunity to shoot this hyperactive video in his home town. The track, Awufuni, is a bright neon pop song that pays homage to South African musical history by sampling the swaying pop of the hugely popular late-1960s girl group Izintombi Zesi Manje Manje.
Spoek has also gone and made us a mix, this one titled 'Slime Time, Dummy!' and packed with high-energy pop bangers and glossy beats. Read his own description of it and the tracklist below, and hit play above.
Spoek: "I soaked up my summer and put it in a mix for you. Slime Time is ram packed with loads of new and exclusive tunes from me and my comrades, as well as some TUFFFF bits I've been dancing/moshing to, a mixed bag of brand new and old as dirt.
"Love is the wave."
Tracklist
Why Do You Never Call My Heart Intro
Babe Rainbow – Did You Knock
Silevr Bullit ft Afrikan Boy & Spoek – Show Me What You Made Of (Chief Boima Remix)
Bobby Seale – No Mo Shuckin' And Jiving
James Pants – Every Nights
Gnucci ft Spoek – I Can Be That
Meye Eye – Bitch (Spoek & Blak Belt Jones remix)
LV ft Joshua Iherden- Melt
Zuzuka Poderosa & Kush Arora – Seda (Jubilee Burt Fox remix)
Petite Noir – Noirse (Pional remix)
Jumping Back Slash ft Spoek – Night Time Business
Chief Boima – Capverdians in Paris
Marvy Da Pimp – Best Best
Gnucci – Work
Spoek & Shamon – Ghost Ride The Ambulance
LV ft Okmalumkoolkat – Safe & Sound
Preditah – Circles
Buraka Som Sistema – Wege Wege
Ciara – Body Party (Sonora remix)
Cristian Dinamarca – Jaguar
Cristian Dinamarca – Making Moves
Kid Fonque ft Zaki Ibrahim – Be
Kid Fonque ft Okmalumkoolkat – Usangikhumbula
LV ft Ruffest – Uthando Lwakho
Spoek & Shamon – Yo' Mama