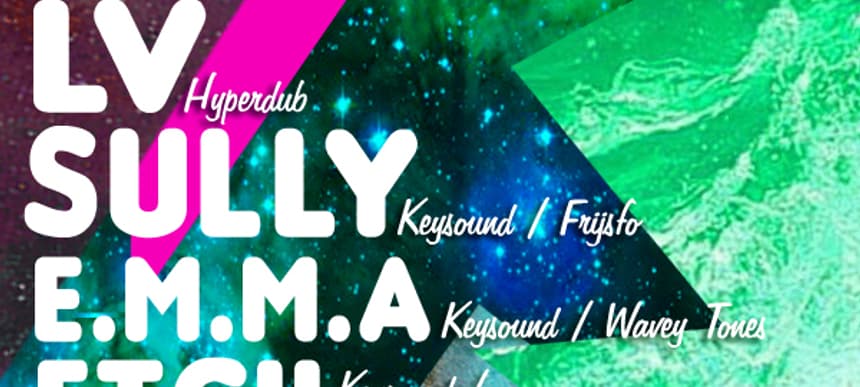 18.11.2013, Words by dummymag
Premiere: Sully's mix for Emerald City
Emerald City is a new night being launched at Dalston's Bar 512 next month (December 6th) masterminded by E.m.m.a – who put out one of 2013's strongest albums in 'Blue Gardens' – which will see a handful of DJs and producers (mostly centred around Keysound Recordings) granted the opportunity to air new music on a loud system in an intimate environment. LV are at the top of the bill, and they'll be joined by Keysound mainstay Sully, labelmates Etch, Parris, and E.m.m.a herself, and Loose Synths DJ DLVRY.
Ahead of that mix, we've got a few words from E.m.m.a explaining what the party is all about. "Anyone who has been following Keysound for the past year or so will know that there are strong links between all artists on the bill," she says. "The main aim of Emerald City is to provide a space for a group of linked artists to premiere new material in a broader context than a dub for dub flex, as we want to show some wider appreciation for the sounds that we love and have taken inspiration from."
She also has some nice words about each of the artists involved. "LV have produced a consistently high standard of original work and remixes, and have recently turned their hand to hip hop grooves under their alias Swamimillion, which you can expect to hear on the night. Etch has revitalised breaks with his Keysound and Soundman Chronicles releases, and his P Diddy work ethic means he has a huge amount of new material to drop on the day. Naturally, Sully and Etch take inspiration from similar places, with Sully producing some incredible jungle. We wanted to make sure we created the right environment to premiere it in London. Keysound affiliate Parris is known for his militant commitment to cutting dubplates and can be expected to be playing straight acetate and vinyl on the night. He also works closely with Wen on collaborations. DLVRY from Loose Synths' camp has had DJ support from Mumdance, Slackk and Dusk and Blackdown for his own productions."
Here's a mix from Sully that should give a good indication of what the party will be like. It's super up-front stuff, comprised mostly of brand spanking new releases or unreleased dubs.
Tracklist:
Underclass – Rinse Compressor [Unreleased]
Kowton – Dub 05 [Signal Life]
Logos – Statis Jam [Keysound]
Filter Dread – dddzzzyyyttt [Unreleased]
Strict Face – In Evergreen [Unreleased]
Acre – Incula [Unreleased]
D'Cruze – Heaven [Suburban Base]
Deech – Haven't Seen You There (Desto Remix) [forthcoming Gon Kontora]
Sully – Simple Things [forthcoming Russian Leisure]
Emerald City will take place at Bar 512 in Dalston, London, on December 6th 2013 – more information and tickets here.