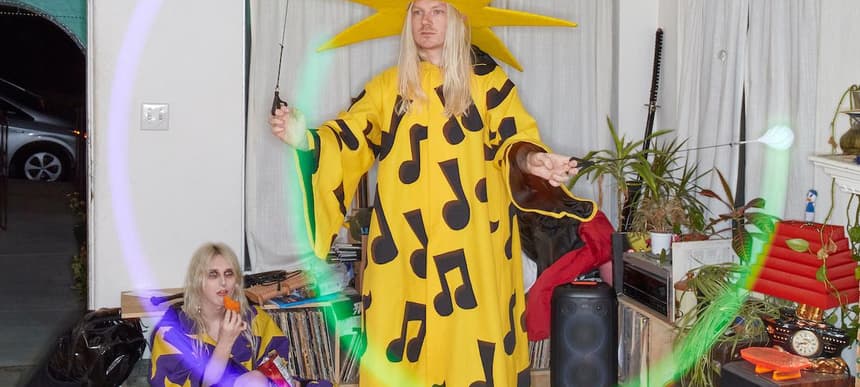 12.04.2022, Words by Billy Ward
100 gecs fuse hyperpop and grunge on chaotic new single 'Doritos & Fritos'
Imagine Nirvana stumbled across auto-tune and some heavy hallucinogenics...
Seeming as if they crash landed into existence from 50 years in the future, 100 gecs, the enigmatic duo of Laura Les and Dylan Brady, return with a brand new single in the run up to their widely-anticipated sophomore album '10000 gecs'.
Known for combining seemingly incompatible genres into the same song, the hyper-experimental double act continue to carve out new sonic ground with their latest release, titled 'Doritos & Fritos'.
Lead by a distorted guitar and high-energy slapped bass sounding like a time-warped homage to early 90's alt-rock and grunge heroes, the new song sounds like if Nirvana stumbled across auto-tune and some heavy hallucinogenics, providing another peek into what tricks the band has up their sleeves on their forthcoming album.
In just a few months following the release of their debut record '1000 gecs', the band went from playing their first concert from inside the video game Minecraft to selling out shows across the country, proving that their rapidly multiplying fanbase doesn't only exist in the far corners of the internet.
100 gecs' new album '10000 gecs' is set to drop later this year. See the '10000 gecs' tour dates below.
Stream 'Doritos & Fritos' below:
Upcoming Live Dates:
16/4 + 23/4 – Indio, CA @ Coachella
27/5 – Arlington, TX @ So What Music Festival
1/6 – Barcelona, ES @ Primavera Soud
12/6 – Queens, NY @ The Governors Ball
18/6 – Manchester, TN @ Bonnaroo
22/7 – 24/7 – Seattle, WA @ Capitol Hill Block Party
28/7 – 31/7 – Chicago, IL @ Lollapalooza
30/7 – Montreal, QC @ Osheaga
26/8 – 28/8 @ Reading and Leeds
22/9 – 25/9 – Dover, DE @ Firefly
'Doritos & Fritos' by 100 gecs is out now via Dog Show Records / Atlantic Records.
Read next: Arca, 100 gecs, Blood Orange, Kenny Beats and more feature on PLZ Make It Ruins' charity loop compilation