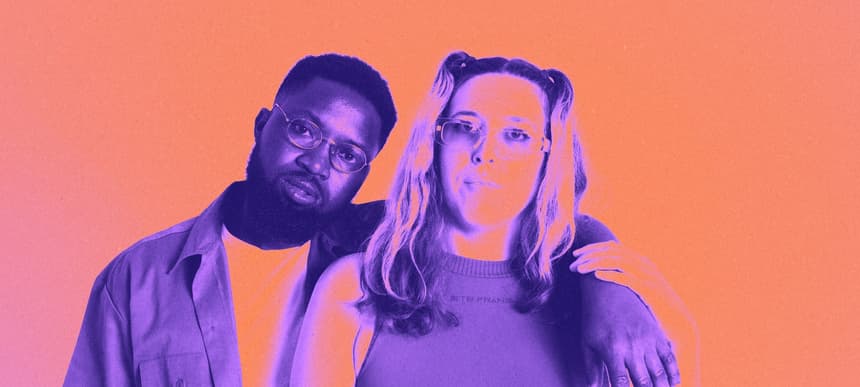 20.08.2021, Words by Maisie Goulsbra
'Abeka Bugatti' EP: five-tracks worth of pure party vibes from Mina and Bryte
Soaring energy levels, off beat rhythm and infectious percussion; 'Abeka Bugatti' is for dancing.
Producer Mina and vocalist Bryte have just shared their debut collaborative EP 'Abeka Bugatti' – five-tracks worth of pure party vibes. Mina and Bryte met in Ghana in 2017, where they came together as one united force bonding over their love of music and bringing together different sounds and rhythms from across the globe, including gqom, funky, Afro house and amapiano. Since then, they've scattered single releases from the EP and even a music video for 'See Something'.
Lead track 'Cool Cool', with its wonky hook, sets the standard for the rest of the EP before 'See Something' comes in and exemplifies what Mina and Bryte do best – off beat rhythm for dancing and having a good time. 'One Million' builds tension with a brassy hook panning in and out, while 'Abeka Bugatti' boasts infectious percussion. If you can't listen to last track 'Awolonge' on a decent set of speakers, you may want to listen in headphones to fully pick up on its roaring bassline and sirens.
Atop of the forward-thinking and feisty tunes, rapper Bryte delivers vocal hype and excitement to match Mina's soaring energy level. Having played together at Berghain, Cakeshop Seoul and Nyege Nyege Festival, Mina and Bryte have taken a fair amount of the world by storm already. Mina is part of Boko! Boko! with Tash LC and Juba, who are also making waves at the moment, meanwhile Bryte has established himself as one of the most exciting voices to come out of Ghana – 'Abeki Bugatti' is named after his neighbourhood in Accra, the country's capital.
'Abeka Bugatti' is out now on Earth Kicks via DMY.
Listen on your favourite streaming service here. Watch the video for 'See Something' below.
For more of the best new music go to Dummy's Spotify and follow Brand New: The Best New Artists.