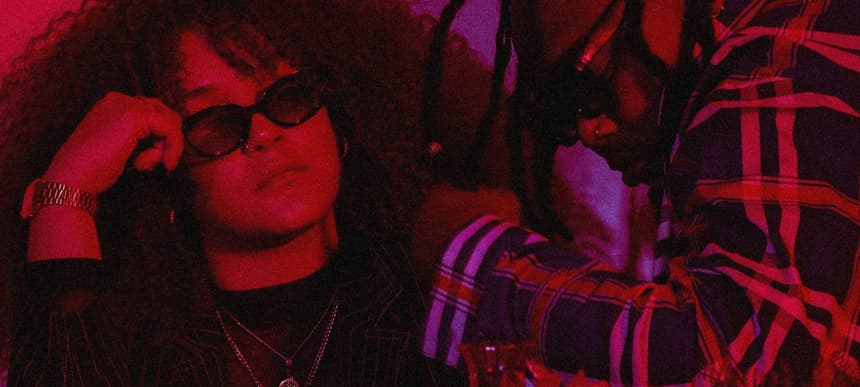 26.10.2022, Words by Billy Ward
Afro Comb fuse hip hop, soul and jazz on thought-provoking debut EP 'When the fun stops...'
The relatable body of work represents the different stages of a typical night out...
Today, North London hip hop duo Afro Comb share their debut EP 'When the fun stops…', a thought-provoking 7-track body of work unpacking the highs and lows of nightlife culture in Britain.
Following on from the release of their successful lead single 'Hocus Pocus', which was aired by Jamz Supernova on BBC 1Xtra last night, the new project takes shape as a form of social commentary and brings listeners on a journey into the pair's personal relationships and how they navigate adulthood. Check out the music video for 'Hocus Pocus' below.
Reminiscing on the duo's early 20s – a blissful time for both artists before the realities of adulthood fully set in – work on the EP began after they broke what was supposed to be a sober month during 2020. Their eclectic blend of alternative hip hop and soul features throughout most of the songs on the mixtape, hammered home by the recurring presence of jazzy undertones and the duo's sultry vocal performances.
Opening track 'Essentials' recounts the pair's typical journey to the local corner shop to pick up what is needed for the night ahead, beginning with a soulful bounce and an early 2000's R&B groove. The relatable, reflective and somewhat inevitable storyline of this EP represents the different stages of a typical night out, with 'Sad Happy Song' marking the turning point in the evening where conversations get deeper as the number of empty bottles increase.
The night takes a sharp 'Left' with the next track, featuring two emotionally charged verses about lost youth, lost innocence and more responsibilities, before the spoken word offering 'Half Full' unpacks the origins of drinking culture from the teenage years onwards. 
Awash with a gritty late 90's hip-hop instrumental and sombre lyrics, the self-aware closing track 'British Culture' reflects on how drowning your sorrows with booze is prominent, and often encouraged, in UK society. 
Stream 'When the fun stops…' below or listen with your preferred EP here.
'When the fun stops…' by Afro Comb is out now via DMY.
Submit music for release via DMY Artists.
Read next: DIVINEANGEL's debut single 'OBiNRiN' receives a West Afrikan-inspired Jkarri remix