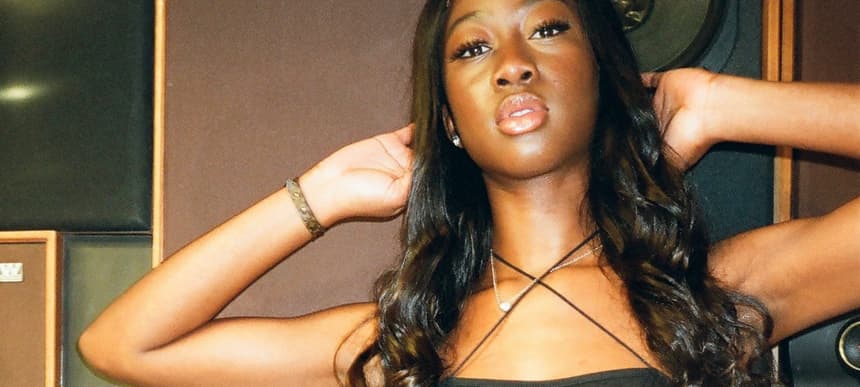 30.07.2021, Words by Billy Ward
DEELA's fiery 'DONE DEEL' EP explores sex, rage and power
The British-Nigerian rapper doesn't shy away from addressing issues head on...
Rounding off what has been a successful year for the British-Nigerian rapper so far, DEELA shares her anticipated new project 'DONE DEEL'. A steady drip of singles have already showcased the fiery nature of the rapper's work, diving into themes such as promiscuity, ex-lovers and empowerment with an unapologetic style bubbling with confidence and attitude. Now, the teenager is back like never before.
The eleven-track project includes previously released tracks 'GET A GRIP', 'CHAINS', 'FIT' and the KA$H-featuring 'ROLLING STONES', as well as debuting a wide selection of previously unheard cuts.
Delivering her razor-sharp bars over a range of beats, from trap and drill to classical violin-inspired sounds on 'heart (interlude)', the 19-year-old steps into her spy-like alter ego "Agent DEELA" to reveal her inner-thoughts and raw emotions.
Recounting unfiltered rage as the primary theme of the album, DEELA doesn't shy away from addressing issues head on. On 'DOMINOES', the rapper pushes back against the scepticism she was met with when entering the music industry and raises a middle finger to anyone who doubted her. Elsewhere, her love/hate relationship with men is explored on eruptive tracks 'BITCH BOI' and 'NO MORE', where her powerful independence is un-avoidable.
It's not surprising to find out that DEELA draws inspiration from some of the industry's biggest heavy-hitters, Nicki Minaj and Flo Milli, with the rapper using her latest project to demand the praise and attention she deserves.
Stream 'DONE DEEL' below or listen with your preferred player here.
'DONE DEEL' is out now via DMY.