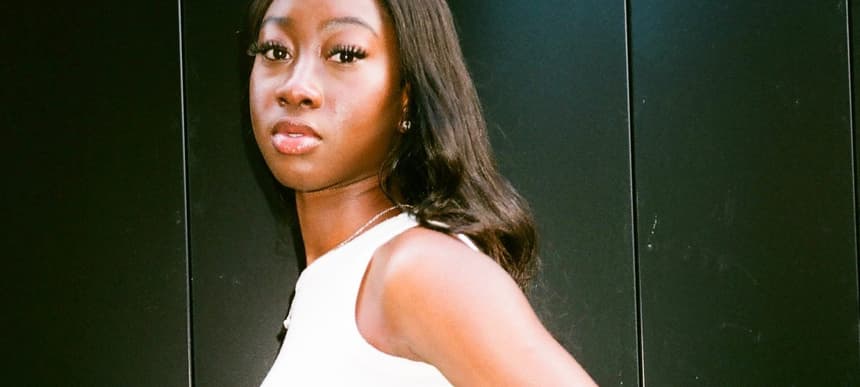 14.07.2021, Words by Billy Ward
DEELA's 'GET A GRIP' is about "demanding the things you want as a woman"
"It's about owning your promiscuity and your single life..."
When it comes to delivering fiery and unapologetic statements of intent, British-Nigerian rapper DEELA is building quite the reputation. Her previous release 'CHAINS' was a scathing diss track calling out her ex-lovers and marked a change of direction for the artist, who effortlessly stepped into a much darker sonic world. Now, a brand new single 'GET A GRIP' is continuing the teenager's recent form.
While studying a Biomedical Sciences degree at university, the 19-year-old has been putting the work in musically, previously dropping tracks such as 'FIT' and 'ROLLING STONES'. Having already experimented with a number of sounds while developing her potent brand of no-holds-barred UK rap, DEELA's latest offering is one of her most streamlined yet, splicing elements of trap, drill and grime to land at the track's cut-throat style.
The single explores the life, needs and sexual demands of a single woman while sending a clear message to men: "Deal with it". Rapping about being promiscuous without a care in the world and addressing her own experiences, the rapper delivers a series of sizzling verses and hooks over a thumping, synth-driven beat.
"It's about owning your promiscuity and your 'single' life. Demanding the things you want as a woman, whatever it may be," DEELA explains. "It's about finding confidence in loving yourself and asking for nothing below your standards."
Showing DEELA partying with her friends without a care in the world, the cinematic music video lends the explosive single a whole new lease of life.
Watch the music video for 'GET A GRIP' below or listen with your preferred player here.
'GET A GRIP' is out now via DMY Artists.
Submit music for release via DMY Artists.