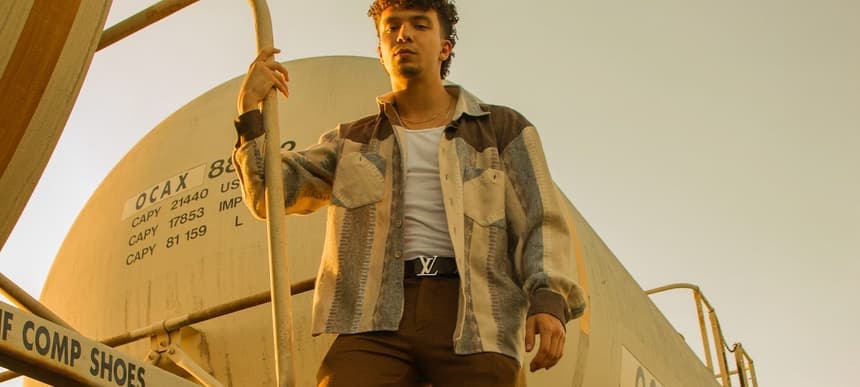 05.07.2022, Words by Billy Ward
Deniz Love's debut album 'ALL WAVES PASS' explores the highs and lows of life
"I saw past the influence of the world around me and found a world in myself..."
After having an active build up to summer with the release of 'Run Away' and 'Over The Edge' back in June, Texas-native Deniz Love shares his anticipated debut album 'ALL WAVES PASS'.
Consisting of 12 tracks, including the recently released single 'Found In You', the new project is an analogy for how all things eventually come and go, using Love's Mediterranean influences and nature-inspired authenticity to provide a unique perspective on the power of living in the moment. 
"There came a time when I stopped looking outwards for inspiration. I saw past the influence of the world around me and found a world in myself that I can see my peers and loved ones through. 'Found In You' emphasises that through our relationships with others, we discover that we are all nearly the same," Love said upon the release of 'Found In You' last month. 
Love, who executively produced the album himself, turned to Grammy-nominated collaborators like Koby Hass, as well as longtime friends such Raye Simmons, Mert Çodur, and more. Currently on tour with Strawberry Milk Cult, the dual citizen of the US and Turkey is poised to use his multicultural influence to bring together music fans from all walks of life.
Despite showing his class with the new album, Deniz's path to the brink of indie stardom has been anything but straight forward. Deniz was originally on his way to becoming a professional footballer before his career was abruptly cut short by a devastating injury. But this change in path would turn out to be a blessing in disguise, as it offered the young creative the opportunity to find his true path in music.
Stream 'ALL WAVES PASS' below or listen with your preferred player here.
'ALL WAVES PASS' by Deniz Love is out now on Çesme Records via DMY.
Submit music for release via DMY Artists.
Read next: Deniz Love's 'Lost Track' is about losing track of time