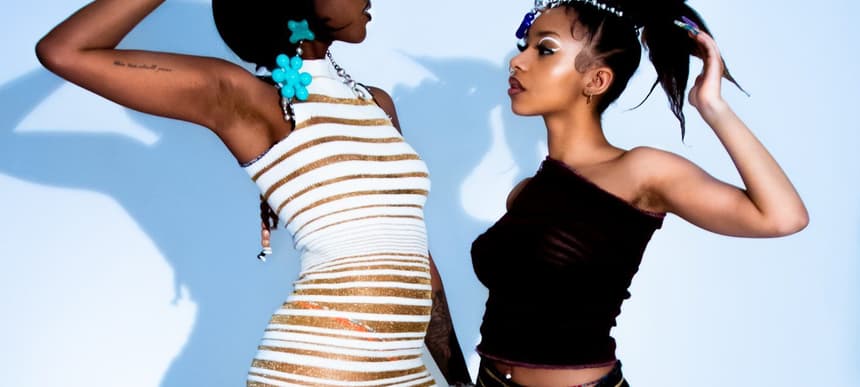 28.10.2022, Words by Billy Ward
DIVINEANGEL tap into the beauty of African culture on transformative 'OBiNRiN Remixes' EP
Including remixes of the duo's debut single by IZCO, Jkarri, Neue Grafik and Holmesly...
DIVINEANGEL have shared a brand new project of remixes centred around their debut single 'OBiNRiN'.
Last Friday, the London duo put out the first of 4 experimental and genre-crossing reworks, kicking things off with an offering from London producer and multi-instrumentalist Jkarri who doubled down on the African inspirations within the original.
Commenting on that remix, DIVINE ANGEL said: "With rhythms inspired by F.Kenya and West Afrikan highlife, Jkarri's remix of OBiNRiN takes a kaleidoscopic, raw and energetic approach channelling the spirit of 70s and 80s West Afrikan music combined with Jkarri's own sound. He experiments with guitar, bass and drums with a redefining sound of what it means to be Afrikan."
DIVINEANGEL is the exciting new project of Yoruba-British soulstress muva of Earth and rising Asante-British artist Angel SEKA. Joining a new wave of Afro-punk jazz artists who craft their music with the intention of connecting themselves to their African roots, the duo's debut release is a soul-nurturing love letter to the divine feminine within the African woman.
The new EP arrives with 3 new takes on the single, including remixes by Rinse FM resident DJ and producer IZCO, London jazz and hip hop talent Neue Grafik and Holmesly. Catapulting the beauty of African cultures into mainstream consciousness, the project maps out the duo's mission to provide a healing and transformative experience for anyone who tunes into their musical frequency. 
Stream the 'OBiNRiN Remixes' EP below or listen with your preferred player here.
DIVINE ANGEL's 'OBiNRiN Remixes' EP is out now DMY.
Submit music for release via DMY Artists.
Read next: Alt-hip hop duo Afro Comb welcome you to their party with new single 'Hocus Pocus'