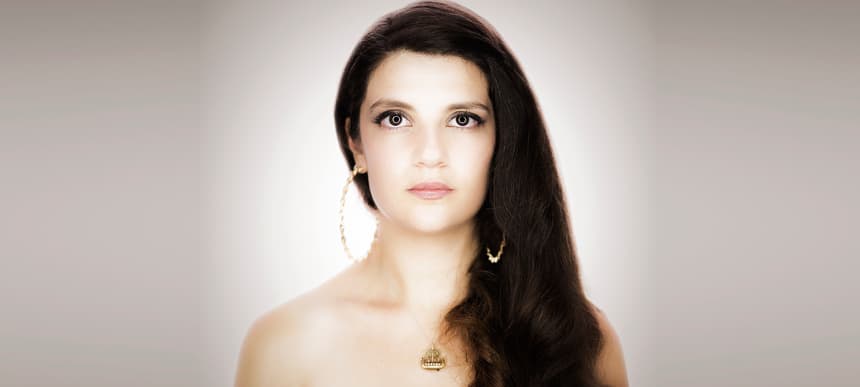 01.11.2018, Words by dummymag
Hear Chaouche's ice-tinged 'Progression' EP
Sometimes Soundcloud demos are so strong that they'll cause a deal to be inked there and then. Which is what happened to Aisha Chaouche, whose debut album, 'Safe' was released on Night Time Stories in June earlier this year.
Quickly following up the release with her new 'Progression' EP, it boasts yet more of Chaouche's wide-eyed melodies, porcelain vocal and soul-stirring, icy production. Having just supported Submotion Orchestra, played Simple Things festival and set to play a two-nighter for Sofar Sounds this month in Bristol, Chaouche is set to continue on what's been a banner year for her.
Read her track-by-track account of the EP's inception, and listen to it exclusively below.
–
'Pt 1. Progression'
"The EP is about a natural progression, discovering courage and conquering fears. A small step in the right direction. A true understanding of my strengths and weaknesses that makes me feel more emotionally balanced and focused. Initially, it was just the first track 'Progression'. Making that was probably one of the most satisfying sessions I've ever had because I got totally immersed in the project for about 16 hours. I really wanted to push my technical abilities and see how far I could go."
'Pt 2. It Will Come In Time'
"It was a happy accident that it turned into an EP. When 'Progression' was nearly complete my manager suggested that I write an ambient version that could be part two. I thought it was a great idea as I've always been interested in ambient, atmospheric music."
'Pt 3. Resolution'
"With the theme of 'Progression' being an attempt at discovering courage, and the response of 'It Will Come In Time' being that patience is required, there needed to be a resolution. Emotionally, I felt like the story had not yet been completed. During mixing 'It Will Come In Time' with Ben Johnson, Ben turned round and said, 'How about writing part three?'. I incorporated ambient elements of parts one and two, keeping the tempo and key the same, and using the chorus melody of part two. The idea of this track being an internal re-birth meant that there was space for one more track."
Pt 4. Epilogue
"'Epilogue' combines elements from the previous three tracks. It was so relaxing making this last one as it represented a small reprise. This track for me is about acceptance, and discovering that I felt better to try and let doubt and negativity reside, rather than try push it away."
Take a listen to the whole EP below.
Chaouche's 'Progression' EP is out tomorrow on 10" white vinyl and digital – pre-order it here.