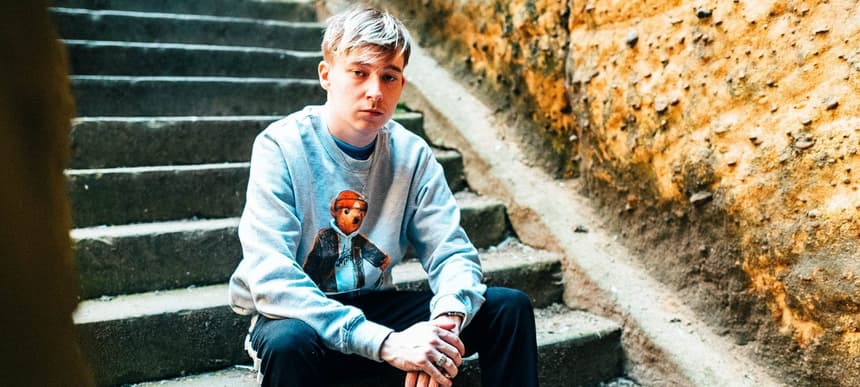 27.06.2022, Words by Billy Ward
hidingthehurt shares poetic anti-pop anthem 'Heaven Sent'
"Imagine 'feelz' by Lil Peep if it was more adapted for my personal life..."
Just a few months after releasing his debut EP 'From Fieldfare With Love', UK hyperpop star hidingthehurt returns with a new funk-infused anti-pop single, 'Heaven Sent'.
With Joshwa recruited on production for the second time since the release of the Tsuyunoshi-featuring 'Take Ur Leave', this new track sees the 19-year-old Brit flaunt fresh flows and cadences atop a mixture of jazzy electric guitars and bass lines. While hidingthehurt's previous releases have focused on heavy production as a way of expressing emotion, 'Heaven Sent' is a more intricate bop based around love and the feelings that come with it. 
The teenager describes his latest single as "a poem of sorts more than a song I think, I'm best at expressing my feelings through words and when I make something as personal as this for someone, I see it more as a poetic gift than simply a piece of music to be listened to.
"Everyone will listen and have their opinions but there is a specific person out there very important to me who will fully comprehend the true meaning of this," he adds. "There are many references in here that only she will understand and what makes it a favourite of mine is the double layer this piece carries. Imagine 'feelz' by Lil Peep if it was more adapted for my personal life, that was a massive inspiration for this".
Stream 'Heaven Sent' below or listen with your preferred player here.
'Heaven Sent' by hidingthehurt is out now via DMY.
Submit music for release via DMY Artists.
Read next: emo pop artist hidingthehurt is breaking out of the self-destructive cycle with 'Tinted Glasses'