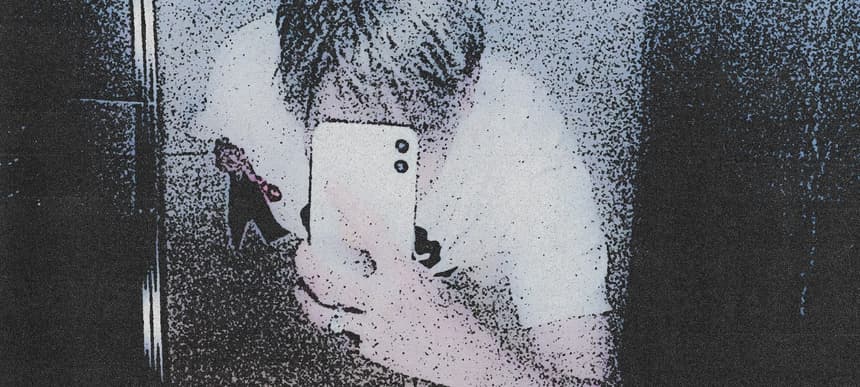 25.03.2022, Words by Billy Ward
hidingthehurt taps up rising star Tsuyunoshi for melodic anti-pop cut 'Take Ur Leave'
"This song for me expresses what being in love is all about..."
UK hyperpop talent hidingthehurt today shares his brand new track 'Take Ur Leave', the final release in the roll-out for his upcoming project which is expected to drop later this year.
2021 saw the emerging tastemaker, real name Ollie Greenhalgh, showcase his ambitious artistic vision with singles 'Wait4Me' and 'Tinted Glasses', which he proceeded to follow up on in January with 'iLike'.
Enlisting the vocals of rising star Tsuyunoshi for Greenhalgh's latest offering, the pair go back-to-back over a silky smooth anti-pop instrumental, using their lyrics to explore the difficult circumstances surrounding a failing relationship. 
"This song for me expresses what being in love is all about, there are warring factions inside my mind and Tsuyunoshi and I do everything we can to portray this feeling in this piece of art. Love is sometimes easy, love is sometimes hard, love is sometimes beauty and love is sometimes pain, no matter what though, love should be unconditional," Ollie says.
"We go bar for bar on this track to encapsulate a toxic relationship and a negative type that many of our generation involve themselves in consciously or unconsciously," he adds: "Like I illustrated on 'iLike', it's about breaking cycles, it was narcissism there, its toxic self-love and romantic love here. I wear my heart on my sleeve always, this song is no different."
'Take Ur Leave' summarises exactly why hidingthehurt has been on the trajectory he has experienced these past 12 months, and the arrival of his new project is set to raise the bar once again. 
Stream 'Take Ur Leave' below or listen with your preferred player here.
'Take Ur Leave' by hidingthehurt is out now via DMY.
Submit music for release via DMY Artists.