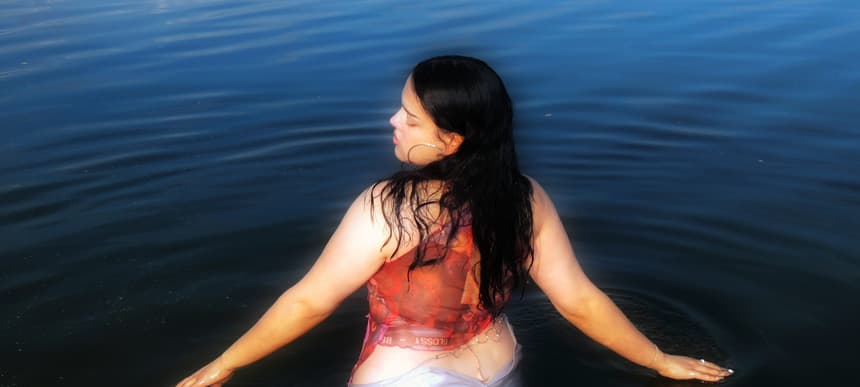 21.07.2022, Words by Billy Ward
Ivohé enters the world of rave with melodic drum 'n' bass cut 'SIRENA'
The Berlin-based talent is looking forwards both musically and personally...
After releasing her coming-of-age debut album 'goldita y despeinada' at the start of the year, German-Venezuelan songstress Ivohé is blessing summer with a vibrant new offering. 
'SIRENA' is one of a number of upcoming singles which sees the alternative R&B artist's dreamy Spanish vocals flow perfectly over a delicate but enticing mesh of jungle, garage and drum 'n' bass-inspired beats.
Where Ivohé's debut project recounted her time living in London, vocalising a period in her life where she was struggling with financial instability, mental health and unsafe living situations, the Berlin-based talent is now looking forwards both musically and personally.
Cartwheeling between English and Spanish with aplomb, 'SIRENA' exists as on of Ivohé's most energetic releases to date, perfect for hands-in-the-air raving or chilling out at the afters. It's a clear mark away from some of her previous work, however, it's hard not to see Ivohé exploring this rave-centric sound in more detail further down the line.
After already garnering support from Jamz Supernova, as well as air time on Rinse FM and NTS Radio, Ivohé is undergoing a pace-setting year. With even more releases on the horizon throughout 2022, this is an artist you'll want to keep on your radar. 
Stream 'SIRENA' below or listen with your preferred player here.
Ivohé's 'SIRENA' is out now via DMY.
Submit music for release via DMY Artists.
Read next: Pinty and Jadasea pay homage to South London on woozy house anthem 'Afters, Lively'
For more of the best new music go to Dummy's Spotify and follow Brand New: The Best New Artists.