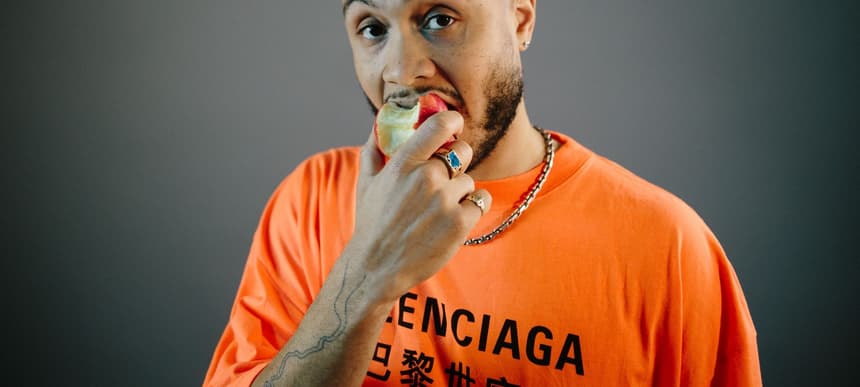 09.07.2021, Words by Maisie Goulsbra
Jelani Blackman goes to church with new single, 'Don't Matter'
The track comes with a live performance video as part of Lockoff's 'Ears to the Ground' series
With two infectious vocal performances on Colors in the bag, Jelani Blackman drops his new single 'Don't Matter' alongside a live performance for Lockoff's live series, 'Ears to the Ground'. In it, the West-London rapper takes central stage in the middle of a church, consistently bringing charisma to his performances, and filling the entire space with his energy.
The single comes from a man who has collaborated with Brian Eno, Burna Boy, Big Zuu; featured on a Future Utopia track alongside Ghetts; appeared on an OthaSoul track alongside Poppy Ajudha, and has done a remix of a Wolf Alice's Don't Delete the Kisses. He also spoke to Dummy during the pre-covid era to share The 10 Best Carnival Anthems according to Jelani Blackman.
Each line is uttered with ease in his trademark deep, omniscient voice, and his versatility makes him an incredibly exciting artist, whose next step could be in any direction. 'Don't Matter' is a tight drill beat produced by Jacob Manson, over which, Jelani graciously delivers lines like "Who really said that you're good? Does it even matter? If you believe it gwan, if your energy's not 10/10 sit back down."
Annie Mac described Jelani as "A musician, a lyricist, a rapper; he's amazing," and Charlie Sloth said he is "A real wordsmith, a real lyricist, man like Jelani come round once every two years, it's like a rare specimen these days, call him the unicorn".
Listen to 'Don't Matter' on your preferred streaming platform here.
Watch the 'Ears to the Ground' performance below.
For the absolute best new music follow Dummy's Spotify playlist, Next Hype: The Nest New Music.