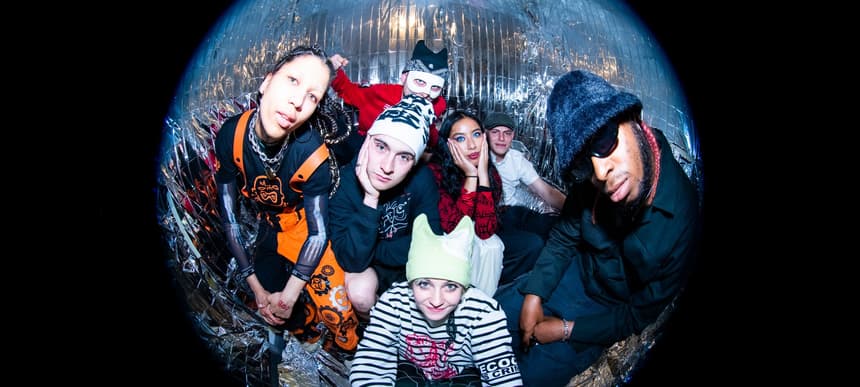 19.07.2021, Words by Maisie Goulsbra
'Luv U Do': another collaborative masterpiece from NiNE8 Collective
It's the paragon of Gen-Z musicality in London today
The DIY arts collective, NiNE8, just unveiled their latest track 'Luv U Do' – and it's the paragon of Gen-Z musicality in London today.
The group have had their heads together since they met at college, where they started making music and art together – its members include Nayana IZ, and Big Piig who is signed to Sony: solo endeavours are something that each of NiNE8's members are pursuing, but without forgetting NiNE8, which acts as a grounding force for the young talent.
Their fresh take and natural attitude towards music (a combination of plurality and multi-culturalism) has found them collaborations with the likes of Tate Modern, London Fashion Week, Boiler Room, Converse and Red Bull, plus seen them perform a sold-out show at London's Jazz Café.
'Luv U Do' is the product of Nige, Lava La Rue and Mac Wetha's production, and its writers and performers include Bone Slim, Mac Wetha, Lava La Rue and Lorenzo RSV. It's a hip-hop track that was created with the intention of achieving a trip hop sound, aiming for the Massive Attack/Moby-era style of early 2000s music – done with filter effects and drums that aren't dissimilar to some of p-rallel's tracks, who is Lava La Rue's touring DJ.
The track comes with a music video, constructed from film footage and photo montages that retain a DIY aesthetic, with all the elements of punk, minus the anger – always with a sense of community and love. It shows the group waking, eating, partying and travelling, seen via phone screens and CCTV.
Love, is what this track is about says founding member Lava La Rue, "Each person touched on past experiences they had based off love, similarly I told my own truths on the song and it's sick because even though we all have had different experiences, the song makes sense and wouldn't work with anyone's verses missing."
Stream 'Luv U Do' on your preferred streaming service here.
Watch the music video below.
For more of the absolute best new music follow Dummy on Spotify and listen to Next Hype: The Best New Music.