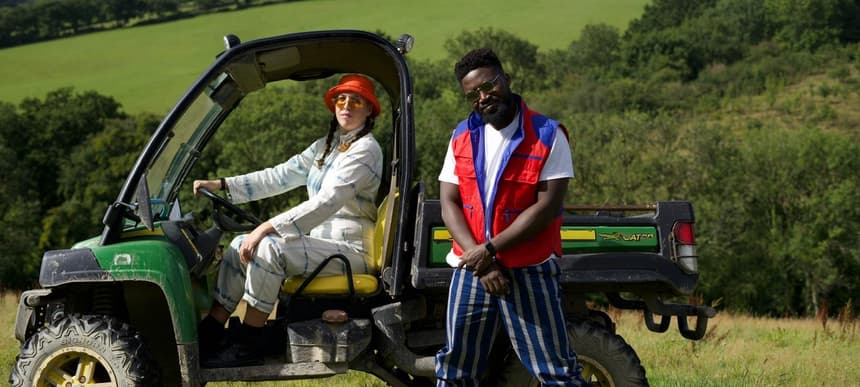 09.07.2021, Words by Billy Ward
Mina & Bryte's 'Cool Cool' is a summer anthem ready to get the dance floor bouncing
The single sets the bar sky-high for club music this summer...
Since first meeting in Accra, Ghana in 2017, London-based producer Mina and Ghanian vocalist Bryte have channeled their shared passion for global club music to travel the world performing at some of the most renowned venues and festivals, while developing their forward-thinking dance sound. Now, to mark the announcement of their debut joint EP 'Abeka Bugatti', the pair are sharing a vibrant new single made for the dance floor.
'Cool Cool' is a track which sets the bar sky-high for club music this summer, mining the corners of the Earth to root out its cutting edge, infectious sound. Weaving Bryte's energetic melodies over Mina's brass and heavy production, the tune fuses elements of UK and Ghanian sound system culture and begs for the volume to be pumped up.
The accompanying video brings a slice of city life to the countryside as the duo take up residence on a rural construction site. Joined by a pair of dancers who get the party started with their energetic moves, Mina and Bryte take centre stage in the colourful, feel-good visual.
The track lands just in time for clubs to re-open and sets the tone for their forthcoming joint debut EP. Out on August 20 via Earth Kicks, Mina and Bryte's 'Abeka Bugatti' project connects the dots between a  range of influences from around the globe including gqom, UK funky, Afrohouse and amapiano. The EP is named after Bryte's neighbourhood in Accra and will utilise five club-ready cuts to explore life in the UK and Ghana. It's available for pre-save here. 
Watch the music video for 'Cool Cool' below or listen with your preferred player here.
'Cool Cool' is out now on Earth Kicks via DMY Artists.
Read next: The 10 Best Tracks from My Hood, Ghana, according to Bryte