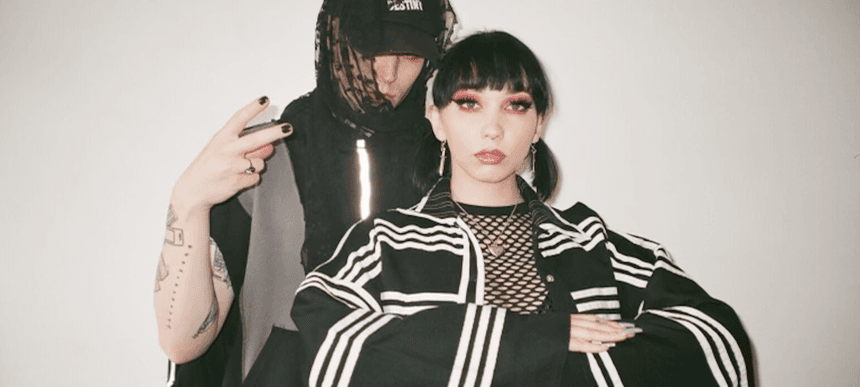 30.07.2021, Words by Maisie Goulsbra
phonewifey and AVA AKIRA glue together debut EP 'phoneAVA'
If diamonds aren't forever, then diamanté hyperpop certainly is...
Hyperpop's golden (collab) couple have returned with their five-track new EP – 'phone AVA', a project that weaves between EDM, house and niche genres like emo rap.
This year the pair have teased at a longer project by scattering collaborative single releases, 'Recall', 'Sore Loser': they explain that the EP was a natural progression – phonewifey had produced for AVA before, and after their singles, the EP just made sense.
The EP includes both artists' vocals and as eclectic mix of musical influences – AVA AKIRA includes My Chemical Romance, Fall Out Boy, Paramore and dance/electronic music like UK dubstep, trance, and happy hardcore as her favourite sounds. Whereas you can catch phonewifey at nights like Trance Party, Noisenix, New Scenery, NRG, TREMORS TV, Endless and Eastern Margins.
On the EP, phonewifey says "I think our joint vocal presence and my overall production style acts as this glue that keeps everything."
'Sore Loser' comes with a music video, and it's the catchiest track on the EP with a feature from hyperpop icon Kid Trash who is responsible for the hook and production. 'Never Ever Stop' is a new track with a feature from LA Based Rave-Queen Snowblood who came through in a big way to create the most Hard-Dance/EDM inspired track on the album.
On 'Diamonds rnt 4eva', phonewifey and AVA AKIRA show us femininity, tenderness and that if diamonds aren't forever, then diamanté hyperpop certainly is. 'Club-Mate in the Back' introduces itself with an airhorn and proceeds into full on smoke machine mode, transporting you to the club no matter where you're listening.
Listen to 'phoneAVA' below or on your preferred streaming service here.
Watch the 'Sore Loser' video below:
Read Next: The 10 Best Emerging UK Hyperpop Artists.