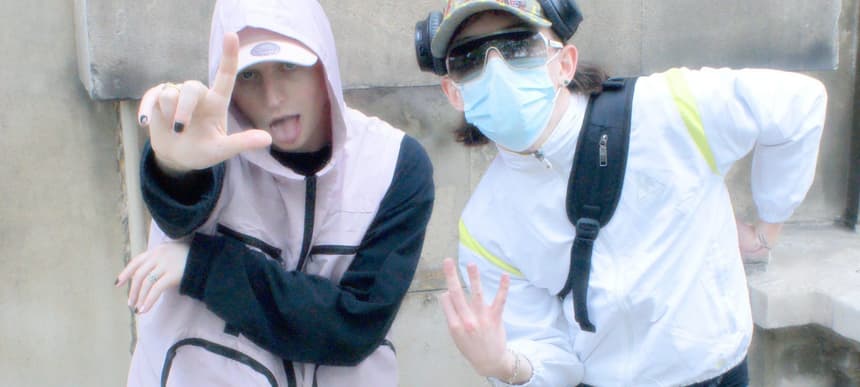 04.06.2021, Words by Billy Ward
phonewifey and skigh9 join forces on ambient cloud rap EP 'OCULUS'
We've been working on the new project via our DMY Artists...
Drawing from rave, EDM and pop music to land at their ethereal sound, London-based dance-pop producer phonewifey today shares their collaborative EP with skigh9, 'OCULUS'.
Awash with sparkling synths, lush chords and mumbly vocal performances, the project's hazy atmosphere draws inspiration from ambient music and the cloud rap scene. 
Speaking about the project, which we've been working on via our DMY Artists, phonwifey says: "Me and skigh9 actually made this tape together in a day. Well, not quite, I had been working on the beats a few days prior, but they literally turned up to mine and we wrote and recorded all the tracks in one session completely intuitively. I think that's what gives it its really distinctive sound and this weirdly coherent flow to the whole record: It's the product of a single session.
"We both listen to a lot of stuff on soundcloud, and to an extent we kinda fit into that space online. I think it's where some of the best and most interesting music is being made right now. Like, there are so many ideas and weird innovative techniques floating around in that scene, it's really inspiring. I remember talking with skigh before we had met irl about the jonatan leandoer96 track 'Hotel in Minsk' just after I had listened to his EP 'unfortunate boy' and thinking that a collab between us was bound to happen sooner or later.
"I think when we work together it brings out the softer side of my work, like, skigh's aesthetic is so ethereal, floating and blurred. There is such a range of emotions in there but I love how soft-focus his vision is. For me, our collabs get me thinking about different aspects of the music being at the forefront, and I love that. OCULUS, I think, has such clear character for a project that's so sonically hazy."
skigh9 also adds: "Oculus presents a door into the subconscious mind of Phonewifey and myself, a collection of thoughts and feelings past and present, views, symbols and sentiments, sometimes lost…"
phonewifey plays one of our upcoming DMY Live showcases at The Waiting Room on July 7th this year – find tickets here.
Stream the EP below or listen with your preferred player here.