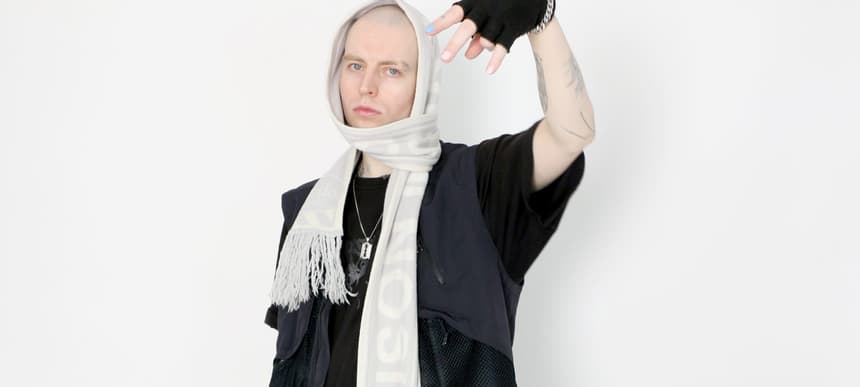 18.02.2022, Words by Billy Ward
phonewifey teams up with Kyunchi and 5d5d5d on hyperpop anthem 'BETWEEN TWO LAMBOS'
"If I've ever written a hyperpop song, this is it."
Continuing the fine form they have been showing so far this year, phonewifey is back with another offering from their upcoming 'Forever 2021' album, entitled 'BETWEEN TWO LAMBOS'.
The rising producer and artist has been teasing the new project with a number of singles over the last few months, dropping title track 'Forever 2021', the 7-minute multi-sectioned epic 'FOREVER 3021', and most recently 'What Just Happened?'.
For their latest offering, phonewifey plays up to the perceptions and labels which often box them in as a 'hyperpop' artist: "hyperpop is a weird one, a broad umbrella term that seems to cover a-million disparate artists and micro-genres glued together by their terminally onlineness and not much else. It's been kinda odd seeing my music get absorbed under this umbrella (I usually think of my stuff as trance-pilled autocroon or post-mumblerap) but in 'BETWEEN TWO LAMBOS' I really play up to this perception. If I've ever written a hyperpop song, this is it."
In typical phonewifey style, the new single is a heady extravaganza that tackles the eternal themes of consumerism, death and shopping. "Aesthetically I wanted to channel the energy of the excesses of the online 00s in an absurd and macabre song about the death-cult of turbo charged consumer capitalism," they say. 
Speaking on the track's trusted collaborators, Kyunchi and 5d5d5d, phonewifey adds: "Kyunchi and I have been working together for a while now, but this marks her first appearance on a song of mine…her fluency in Russian also became a useful tool for this song, singing about wealthy excesses and international travel in-character for her whole verse. I've never met anyone in music who's quite so meticulous about world-building and the grand aesthetics of what they put out; Kyunchi's attention to detail when it comes to lyrics, references, artwork and themes is unparalleled and I feel very blessed to be working with her.
"5d5d5d is a meme creator with one of the most profound senses of humour I've ever come across…I asked if she wanted to do a kind of spoken word intro for the track, introducing the themes however she wanted, and she came through with a kind-of Paris and Nicole/Valley Girl/The Hills dialectic in which two Mean Girls discuss a 'friend's' tragically inexpensive funeral at brunch."
Stream 'BETWEEN TWO LAMBOS' below or listen with your preferred player here.
'BETWEEN TWO LAMBOS' by phonewifey is out now on New Dance Craze via DMY.