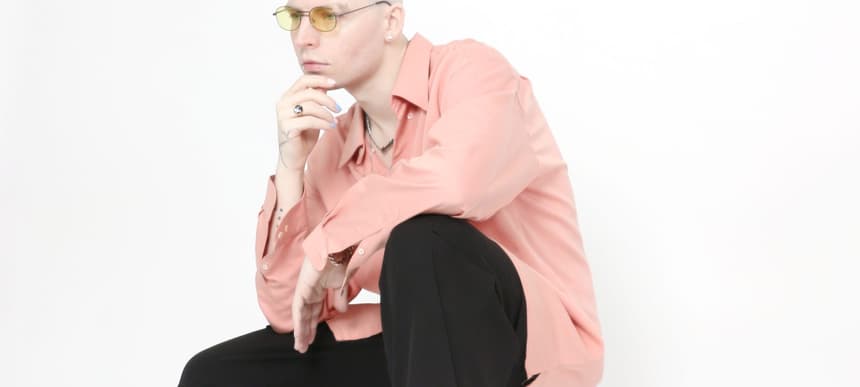 25.03.2022, Words by Billy Ward
phonewifey's 'Forever 2021' album is their full-length pop odyssey
"I want to be pop but I don't want to be pop. This record is kind-of about having my cake and eating it..."
The roll-out for phonewifey's eagerly-anticipated full-length album has been one with many twists and turns, navigating the rising producer's inimitable sound and outlook on the pop landscape with a number of snappy singles, including 'I Want Everything/GTA WASTED', 'BETWEEN 2 LAMBOS', 'What Just Happened?' and more.
Finally arriving in its entirety, 'Forever 2021' stretches the definition of what can be considered pop music while paying homage to what inspired it. Featuring an all-star cast of collaborators, the album's journey through a bevvy of styles and genres is more of a conceptual choice than phonewifey's indelible artistic stamp.
"I want to be pop but I don't want to be pop. This record is kind-of about having my cake and eating it; channeling all of my thoughts and feelings about mainstream pop-music and culture while also remaining underground enough to incorporate twists, turns and themes that are rarely found in projects with designed mainstream appeal," says phonewifey: "The urge to create a record that at one moment sounds like it could be played on the shop floor at H&M and the next sounds so surprising and bewildering that it could have only been made by some fringe weirdo in their bedroom. I think this represents the dichotomy that a lot of artists in the underground feel: that we yearn for something akin to mainstream success and recognition, but if we actually got it we wouldn't know what to do with it."
Beginning with catchy, radio-friendly ear-worms and ending with a spiralling and kaleidoscopic series of songs that push their pop influences into something altogether more extreme, the album is a product of the diverse scene phonewifey has helped to create.
"For this album I've gotten such a buzz out of working collaboratively. Forever 2021 has a pretty remarkable list of features that I'm still astonished I managed to bring everyone together for. I love the work of everyone who appears on this record and I'm honestly still so flattered that when reaching out to people I had such enthusiastic and generous responses," they continue: "From old friends Melly, ERSATZ and Traitor, to more recent regular collaborators from the London scene 3L and Roma Radz, to a growing list of international collaborators Kyunchi, Miss Madeline, Snowblood, Rakky Ripper, girl_irl, 5d5d5d & IAN UNIVERSE it's been incredible to invite people into this world I've been creating."
Stream 'Forever 2021' below or listen with your preferred player here.
'Forever 2021' by phonewifey is out now on New Dance Craze via DMY.
Submit music for release via DMY Artists.