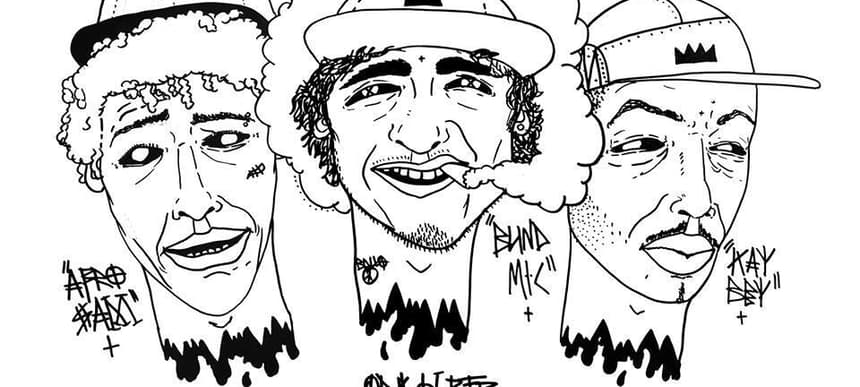 24.11.2015, Words by dummymag
Premiere: Free Wize Men - Is Ya With Me?
Unknown to some, Manchester has a rich tapestry of MC talent. There's top shotta vocalists like Trigga and Good Lookin' Records MC DRS who cut their teeth in the jungle and drum and bass. Bugzy Malone and Bonkaz defy anybody who says grime is a 'London scene'. Bass-driven mega-group Levelz – consisting of members including Sparkz, Chimpo, Skittles and more – bring a bunch of genres to the table and create something unique that skirts around the edges of bass, club music and hard-edged hip hop.
And now, making their debut today is Manchester hip-hop squad, Free Wize Men. Consisting of MCs Afro Sam and Kay Bey, plus multi instrumentalist and producer Blind MIC; the trio are a tightly knit bunch who have stuck together from a young age, tracing the origins of their unity back to the days when they used to skip school to hang in the park.
The musical influences on Free Wize Men stem far and wide, with the three name-checking guitar heroes Santana and Hendrix whilst also nodding their head to Odd Future and Kendrick Lamar. One of the city's most valuable heralded and music export – the 90's Madchester scene – is also high on their list. With this in mind, it's easy to trace the genre-bending roots of their new single Is Ya With Me? A mixture of the sounds that inspire them most, their debut is a unique addition to the Manchester sound, led by jazzy electronic chord progressions, live guitar and bass. Adding the dinstinctive sound of legit Manc rap accents from Kay Key and Afro Sam, the ever-catchy chorus gives If Ya With Me? true sing-a-long properties, making this an impressive bit of hip hop strictly for the good times.
Free Wize Men's 'Free Wize' EP is out soon on Room 2.