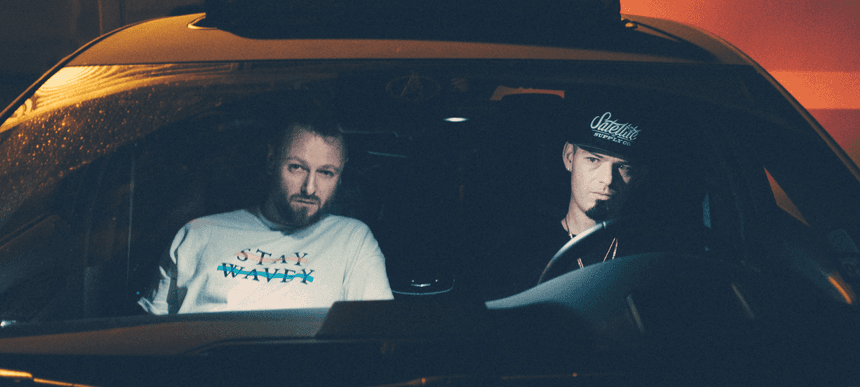 01.04.2019, Words by Felicity Martin
Premiere: Sam Binga drafts in Houston hip-hop legend Paul Wall for 'All Cap'
"I wasn't 100% sure it was actually going to go down until I pulled up to the studio and saw the candy red Chevys with 84s poking out"
Sam Binga has been pushing a UK underground-focused sound for some time, dancing between areas like jungle, dub and dancehall for a shadowy, bass-laden output that has always sounded fresh. The Bristol-based producer's latest offerings, 'Everfresh' and the 'Simmer Down' EP, saw him mining UK pressure in the same vein, and now Binga has applied his weighty, jungle-meets-footwork sound to a new EP, 'If The Cap Fits'.
Having already hooked up with dub vocalists and UK rappers like Warrior Queen, Rider Shafique, and Fox, it was time for something different. Binga drafted in North American rap hierarch Paul Wall, responsible for tracks like 'Sittin' Sidewayz', 'Still Tippin' and 'Grillz' with Nelly, cuts that essentially put Houston on the rap radar and catapulted him to stardom.
Arriving on London drum 'n' bass label Critical, we caught five with Sam Binga to find out how the unlikely transatlantic collaboration came about – and you can listen to 'All Cap' underneath.
Talk us through the EP as a whole – what was the main thinking behind it?
With this EP, I really wanted to pull together a bunch of the different strands of things that have interested me as a producer and DJ over the last few years – so there's nods to the dancehall-influenced stuff that I focussed on with the 'Champion EP', there's a couple of deeper tunes that follow on naturally from projects like the Conamara Field Words ambient/dub record I did on Khaliphonic last year, and there's a couple of tracks that are explicitly influenced by Southern rap and hip-hop, which has been a pretty solid theme through a lot of my work.
How did the hook up between yourself and Paul Wall happen?
I've gotta give a massive shout out to the Gritsy crew in Houston for making this whole thing happen, and in particular Natascha Boland. I'd played in Houston a couple of times, and the first time I had a few extra days, so I pretty much demanded someone drove me out to the Screw Shop to pay homage to the Texas rap scene. Plus I made sure I finished my set off with a bunch of Houston rap classics, old and new. It seemed an obvious thing to do, but apparently it wasn't too common for visiting UK DJs to really show the city love like that, so I think it made a bit of an impression. Anyway, I think my wide-eyed excitement at being in the H convinced them I was a genuine fan, and Natascha started hunting around to see if she could link me with some of the OG rappers. Turned out, she had gone to school with a guy who did a lot of graphics for Paul Wall, and once she convinced him that I was serious, he reached out to Paul, and we managed to find a way for me to be in Houston after a show in California. I booked a couple of hours at Bruce Bang's studio and somehow it all came together.
It's a pretty mad link-up – have you been a fan of his for some time?
Of course! Besides the obvious huge tunes he's been involved in, from 'Still Tippin' to 'Grillz' to all the Swishahouse stuff, his tune with Chief Keef from last year, 'Bust', is one of my favourite Houston tunes for a minute. Then you've got the verses on the Riff Raff 'How To Be The Man' remix, Young Dolph 'Down South Hustlers'… The pedigree is beyond impeccable.
And yeah it's a mad link – I wasn't 100% sure it was actually going to go down until I pulled up to the studio and saw the candy red Chevys with 84s poking out. Still can't quite believe it happened to be honest!
Stylistically he's pretty different to the vocalists you've worked with previously, did you have to alter your production in any way to fit his flow?
I made the beat at the start of 2018, and I knew it would fit an American flow, 'cos I was listening to a lot of Mike WiLL Made-It productions at the time – I really like the way he uses melodies and counter-melodies in his beats, so the original version that Paul Wall rapped on was a lot more melodic. But as it came time to mix it down, I couldn't seem to get the impact and energy I needed to make it fit in one of my sets, so I ended up tearing my hair out trying to get it all to sit right. As always, 'less is more' was the eventual solution, and stripping the melodies back for a lot of the track ended up being the key to making it work.
What's next for you?
Move to Texas, and spunk all my savings on an old-skool swanger with the candy-apple paint job and – of course – a wood grain wheel.
Listen to 'All Cap':
'All Cap' is out now via Critical Music – stream and purchase it here.