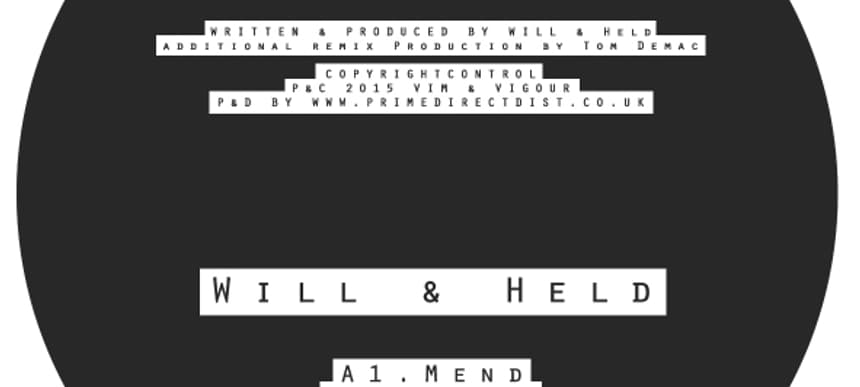 15.10.2015, Words by Natalie /
Premiere: Will & Held - Mend
Will & Held are William Berridge and Richard Meller, two Yorkshire-born, London-based producer/artists whose output is a strictly analogue approach. Next week (October 19th), the duo will release a new EP under the moniker, following a remix of title-track Mend by Tom Demac that aired earlier this week.
Releasing with fellow fledgeling imprint Vim & Vigour, today Will & Held are airing Mend (premiering below), a portion of hybridised, weighty electronica that works to its own accord. The seven-minute track is a leisurely grooved epic with melody and rhythm weave in and out of a moody landscape. While the instruments and method of the track's composition are austere, Mend's free and fluid structure is a welcome contrast to the usual hyperactive sounds you hear on the leftfield spectrum.
Listen to Mend below and if you're based in Leeds, catch Will & Held performing with Vessels and Alex Banks on Monday, October 19th (details here).
Will & Held release the 'Mend' EP on October 19th (physically) and November 2nd (digitally) through Vim & Vigour (pre-order).