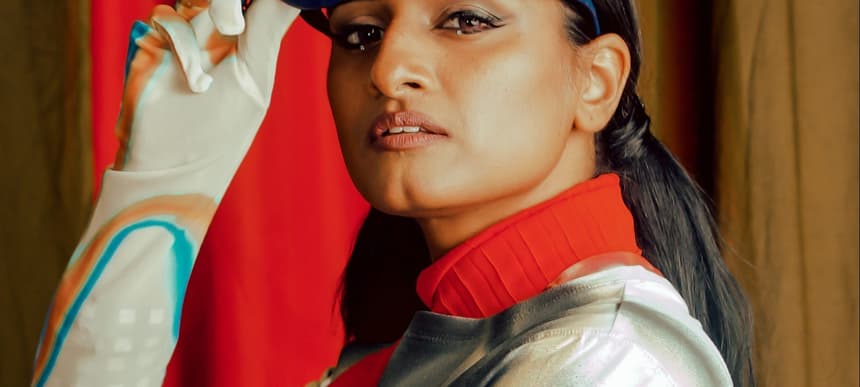 06.09.2021, Words by Maisie Goulsbra
Priya Ragu's new 'damnshestamil' mixtape is her purest work to date
"If I could make your day better, even if it's for a blink of a moment, that is more than I could ever ask for."
Priya Ragu's biggest project to date, the 'damnshestamil' mixtape is out now – this eclectic mix of sound and colour makes her one of the hottest breaking artists today. The mixtape's ten tracks are pop-orientated and influenced by her journey in life so far – she was born and raised in Switzerland following her parents' escape from the Sri Lankan civil war in the early eighties. Her parents were initially strict, and Priya wasn't encouraged to listen to Western music or hang out at the mall after school. However, sneaking out to jam sessions and open mic nights, she decided to fully pursue her ambitions by moving to America with the help of her friend, the rapper Oddisee.
'damnshestamil' is the product of Priya's long-standing professional relationship with producer and brother, Japhna Gold who encouraged Priya to pursue her artistry when, at sixteen years old, she performed Alicia Keys' 'Fallin" at a show Japhna was doing with his rap group.
On the new mixtape, she says; "This is the most pure and sacred work that I have ever put out into the world. I've carried it within me for a very long time until I found a way to translate it into these songs. If I could make your day better even if it's for a blink of a moment, that is more than I could ever ask for. I can't wait for everyone to hear it."
This summer Priya performed some of her biggest shows so far including Latitude, All Points East and a visually stunning, sold out show at Montreux Jazz Festival on the site's new Lake Stage. She announced the mixtape along with single 'Kamali', which Annie Mac premiered on Radio 1, and it was followed with 'Lockdown', which became the Hottest Record on Radio 1's Future Sounds. The track's music video is a striking display of two dancers tied to platforms in the vast desolation of an empty quarry.
The mixtape begins with lead track 'Leaf High', which hones in on a masterful vocal performance and a rap section. Previously released single, 'Good Love 2.0' is a disco-charged track fused with South Asian samples – the realisation of Priya's Tamil heritage; it's not hard to see why she was selected to support Jungle on tour this month.
'Chicken Lemon Rice' has also acted as fuel to the fiery and burgeoning energy surrounding the release of the 'damnshestamil' mixtape – an absolute feast to the eyes and ears, its music video is another cinematic piece directed by Dumas Haddad, with styling that blends East and Western garments in way that has become Priya's trademark look.
Previously unheard tracks like 'Lighthouse' make use of Sri Lankan flute on an alt-pop beat and 'Deli' continues to seamlessly merge South Asian percussion with electronic drums in a way that is relatively unheard of in mainstream music. Bonus track 'Santhosum' is the purest expression of her heritage and lives up to its title, as Priya sings entirely in Tamil over a backdrop of traditional instrumentation.
Catch Priya Ragu during her headline UK and European tour this year (dates below).
SEPTEMBER – WITH JUNGLE
3rd – London, O2 Academy Brixton (SOLD OUT)
4th – London, 02 Academy Brixton
17th – Manchester, O2 Victoria Warehouse (SOLD OUT)
18th – Manchester, O2 Victoria Warehouse
NOVEMBER – HEADLINE TOUR
18th – The Netherlands, Amsterdam, Melkweg UP
19th – Germany, Hamburg, Turmzimmer
22nd – UK, Manchester, YES
23rd – UK, London, Jazz Café (SOLD OUT)
25th – Belgium, Brussels, AB Club
26th – France, Paris, Badaboum
28th – Germany, Berlin, Privatclub
29th – Germany, Cologne, JAKI
30th – Switzerland, Zurich, Exil
Listen to 'damnshestamil' below or on your preferred service here.
Read next: Priya Ragu's post-genre sound champions her Tamil heritage.