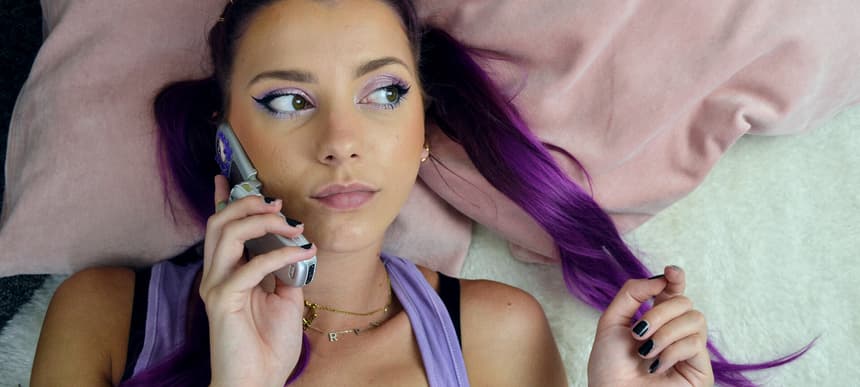 06.09.2022, Words by Billy Ward
purpl wants to 'Tell All Your Friends' about her dreamy new R&B anthem
Opening up about the healing process that comes with leaving someone in the past...
Right back at the start of summer, Bristol-based alt-pop talent purpl shared her dark and vulnerable single 'Morphine'. Running with the momentum she's picked up since garnering support from BBC Introducing and expanding her devoted core fan base with a number of singles this year, the rising songstress is back again to wave off the warmer months.
Entitled 'Tell All Your Friends', purpl's latest offering showcases her subtle but infectious melodies over a hazy R&B production punctuated by delicate synths and drums. Much like the ethereal sound of 'Morphine', the singer/songwriter continues to grow her dreamy world-building capacity on the new cut, opening up about the break-ups in a relationship and the healing process that comes with leaving someone in the past. 
It's clear that purpl is operating in a different lane to those around her. Defining her world much more visually than the average person, the creative has learnt to harness her synesthesia to help with the creative process of her music – a neurological condition which means she can interpret colours in sounds.
As her artist name suggests, the colour purple is a constant feature in her work. Mixing the calm stability of blue with the fierce energy of red, purpl's latest single is a fine return to form from an artist who is killing it so far this year.
Stream 'Tell All Your Friends' below or listen with your preferred player here.
'Tell All Your Friends' by purpl is out now via DMY.
Submit music for release via DMY Artists.
Read next: Kaisha's silky-smooth new single 'Ego' is about when "true colours shine through"