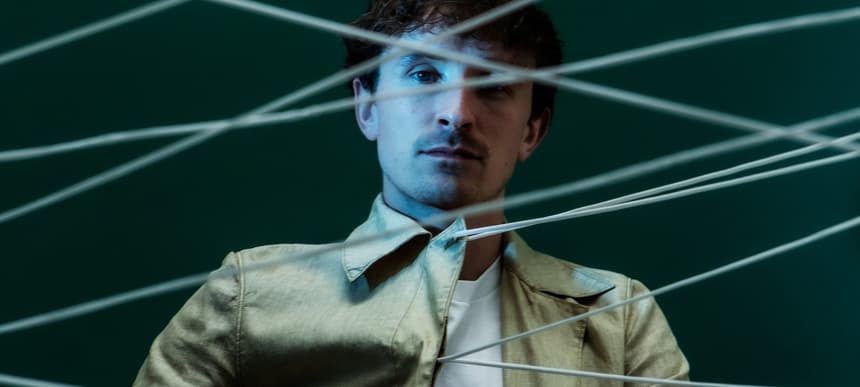 22.10.2021, Words by Maisie Goulsbra
Ross from Friends built his new album 'Tread' using own plugin available via Ableton's Max For Live platform
"'Tread' refers to the marks that I've been permanently leaving, both in my memories and throughout the process using 'Thresho'".
Ross from Friends' eagerly anticipated sophomore album 'Tread', which was begun and made in lockdown is out now on Flying Lotus' Brainfeeder imprint. British producer Felix Clary Weatherall's debut album 'Family Portrait' from 2018 stood him as a figure in electronic music with an aptitude for creating highly emotive and thought provoking tunes via exquisite production.
'Tread' begins with lead track 'Daisy', which was dropped as a single earlier in the year, with a music video that follows the journey of a young girl on her way to becoming a speed-cuber. 'Love Divide' was the second instalment to be released in the run up to the album, followed by 'Revellers' an aquatic breakbeat cut with brassy synths. 'A Brand New Start' slices soul samples with electronica, 'XXX Olympiad' exemplifies Felix's flair for panning, spacious sound design, as does next track 'Grub' that chimes in with oscillation, creating a sense of motion.
'Splatter/Splatter' is a track that emerges like the sun from behind the clouds with a slight playfulness, leading to 'Morning Sun In A Dusty Room', an ambient synth pad arrangement. 'Run' is minimal in layers but dynamic in its build up of tension, succeeded by 'Life In A Mind' with strobe-like vocals that are joined by a rave-ready refracted groove.
The last two tracks are named after 'Threshno', the brand new plugin available via Ableton's Max For Live platform, which starts recording once the audio hits a user-defined threshold, then stops once it goes below that threshold.
Felix says, "I've amassed all of these memories from a time spent just messing around in South London, as with 'Thresho', I've amassed all of these recordings from sitting around and experimenting musically. 'Tread' refers to the marks that I've been permanently leaving, both in my memories and throughout the process using 'Thresho'".
With Threshno being so integral to the process, Felix has also made the decision to share this vast bank of recordings that were the foundations of 'Tread' and in doing so, offer up a peek behind the scenes at the creative process of one electronic music's most individual and compelling voices. To be released soon, fans will be invited to explore this resource and share their interpretations, versions, iterations and interactions.
Listen to 'Tread' here, or watch the video for 'Daisy' below.
Ross From Friends is mid-way through a UK and EU tour, find dates below. Get tickets here.
2022
29 Oct – Kompass (DJ), Ghent, BE
03 Nov – Aeronef, Lille, FR
04 Nov – Trabendo, Paris, FR
05 Nov – Le Sucre, Lyon, FR
06 Nov     – Mutations Festival, Brighton, UK
11 Nov – 24 Kitchen Street, Liverpool, UK
12 Nov     – The Crossing, Birmingham, UK
02 Dec     – Komedia, Bath, UK
03 Dec     – O2 Academy, Oxford, UK
18 Dec     – Braindance at AB, Brussels, BE
2022
22 Jan – Button Factory, Dublin, IE
26 Jan – Gloria, Cologne, DE
27 Jan – Festsaal, Berlin, DE
28 Jan – SWG3, Glasgow, UK
29 Jan – Electric Brixton, London, UK
10 Feb – Vega, Copenhagen, DK
11 Feb – Jaeger, Oslo, NO
12 Feb – Grelle Forelle, Vienna, AT
18 Feb – Boiler Shop, Newcastle, UK
19 Feb – Trinity, Bristol, UK
26 Feb – Academy 2, Manchester, UK
30 Mar – Melkweg, Amsterdam, NL
31 Mar – BIRD, Rotterdam, NL
01 Apr – Doornroosje, Nijmegen, NL
Read next: The 10 Best Sci-Fi Movie Soundtracks, according to Ross From Friends.