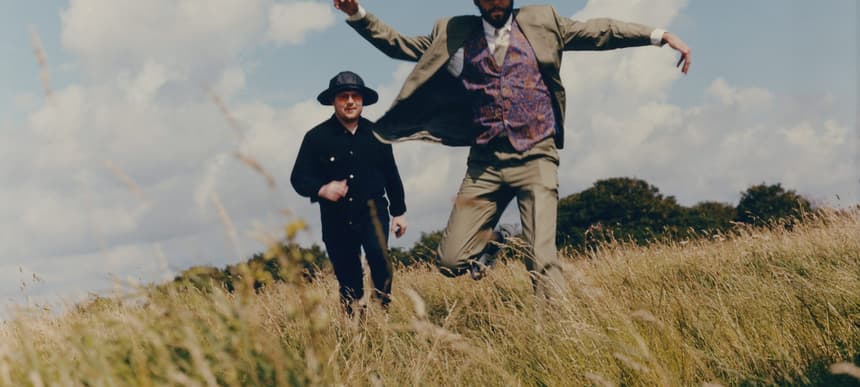 13.08.2021, Words by Maisie Goulsbra
Slugabed and Samuel Organ debut joint alias Peter Talisman on 'A Life-Changing Discovery'
"Bottom-of-the-hyperpop-iceberg conceptronica"
'A Life-Changing Discovery' is the first taste of what to expect from Peter Talisman, the new alias and joint endeavour between Slugabed and Samuel Organ. Hot off the back of their solo projects, the two have merged to create ethereal and ambient scatterings of James Taylor-sounding samples in a hybridised form of something they have coined "bottom-of-the-hyperpop-iceberg conceptronica".
Multi-instrumentalist Samuel Organ's previous project 'A Safe Space in CyberSpace', was a full length album rooted in the realm of experimental jazz and elctronica. Slugabed's prior release 'we have the window open at night', was a thirteen-track-long, abstract assemblage of pensive textures and samples.
With releases on Ninja Tune, Slugabed's Spotify bio describes him as having; "large puddles forming under each of his trouser legs… very few hair follicles but each hair is big and fat like a finger. slugabed can hover, he can glide, and he can soar. slugabed is strong as an ox, and as brave as a lion."
Samuel Organ, founding member of The Psychics House Band, boasts an impressive list of features on his tracks, including BABii, Adam Betts (Squarepusher, Goldie), Cole Longanecker and Dazey. Sitting somewhere between Culprate, Bon Iver and Iglooghost (the latter of which is a fan of Samuel's), this is an avante-garde fabrication that pushes boundaries, exhibiting Samuel's virtuosic guitar playing and Slugabed's general disregard for all he learnt at music college.
'A Life-Changing Discovery' opens up a new artistic direction for both artists and their listeners.
Listen on your preferred streaming service below. Out via DMY.
Fore more of the absolute best new music find Dummy on Spotify and follow Brand New: The Best New Artists.