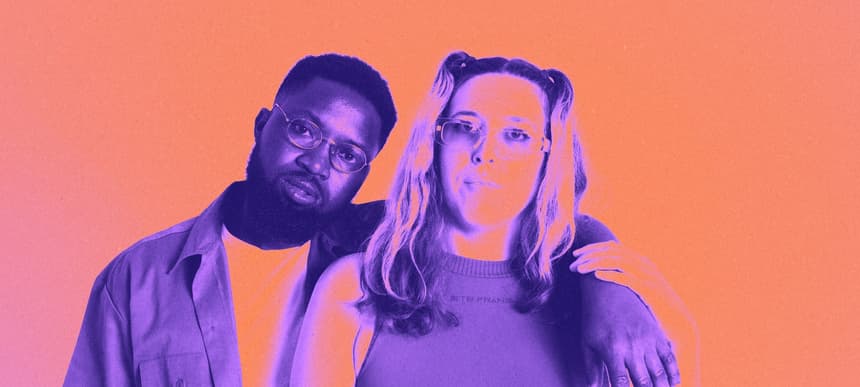 21.11.2019, Words by Felicity Martin
Snowy collides with Sleaford Mods' Jason Williamson on 'EFFED'
The riotous new single is out now via our DMY Recordings...
Midlands MC Snowy has teamed up with fellow Nottingham mastermind Jason Williamson of Sleaford Mods for anarchistic new single 'EFFED'.
Out today via Dummy's DMY Recordings (stream it here), it finds the pair giving the middle finger to the establishment, offering up a portrait of the dismal state of the UK over a gutter-flavoured beat produced by Lenkemz.
No one is safe from Snowy, who addresses the privatisation of the NHS, the government's immigration policy and the Windrush scandal. It's a cut timed perfectly before the country dives into general election chaos.
The video, directed by longtime collaborator Toby Curson and Luke Radford, was shot in the pair's native city – a place ravaged by cuts but still standing strong.
The link-up came about pretty organically. "This song came about because Lenkemz and I have had multiple conversations over the last few years about making a political song that will change the course of public thinking, without being cringey and cliché," Snowy says. "I was listening to 'English Tapas' by Sleaford Mods one day and thought I'd love to do a song with them, so I just tweeted it. When I got the reply from Jason I was like, 'Yeah man let's get it done', then it clicked in my head.
I wanna make a song with @sleafordmods

— SNOWY (@SNOW667) April 23, 2018
"Jason told me he was interested in jumping on grime as he's a fan of the music so it was all about making a crossover banger that doesn't take away from what either of us have been doing up to now. Personally I think this could be a decade-defining record; a mixture of grime, drill, GREEZE, punk, death metal and indie, with a DIY attitude bringing it together organically from two of Nottingham's most influential and high profile voices and talking about the shit show we call 'UK politics'. How could it not be?!"
Watch 'EFFED' now:
Listen to 'EFFED' via your preferred streaming service here.