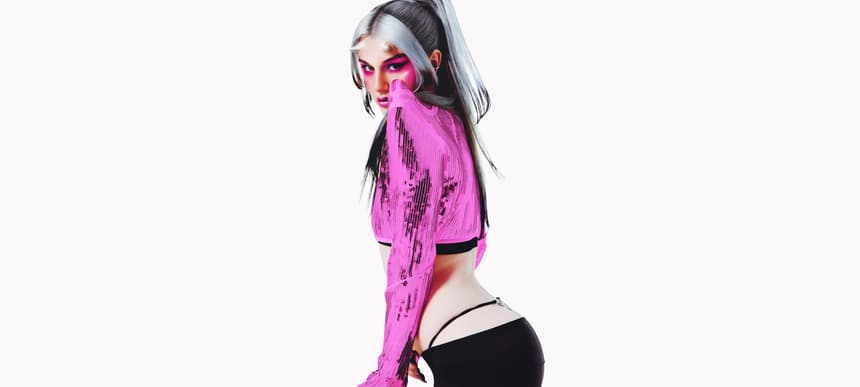 11.11.2021, Words by Maisie Goulsbra
'Sugared Up' is twst's twisted version of Tchaicovsky's 'Dance of the Sugar Plum Fairy'
"Me and my girls created this world and trust you were never invited"
twst's new single 'Sugared Up' co-produced with the Ivor Novello-nominated Slinger (Ashnikko) is out now. Inverting what it means to be a sugar plum fairy, electronic artist, singer-songwriter twst (she/they) has taken Tchaicovsky's imitable 'Dance of the Sugar Plum Fairy' melody and turned it upside down to dismantle the toxicity rife within parts of the music industry.
The Welsh musical innovator twst was born and raised in Barry, Wales, growing up working at her father's chicken factory. Alongside collaborating with musicians, she also aims to work with other talented creatives including Ami Evelyn, who worked on her second "hikikomori session" (the Japanese concept of reclusiveness) in which the two reference twst's continued exploration of themes of surveillance, privacy, and the malleability of online identities. twst frequently works with stylist Matthew Josephs and photographer Ruth Hogben.
On the new single 'Sugared Up', twst explores her frustration at young female and non-binary musicians being sent to write with older, white cisgender men, through lacerating lyricism – "they try to send me to guys, 'improve my writing', but me and my girls created this world and trust you were never invited". She further pokes fun at this sentiment, ironically writing the song over Romantic Era composer Tchaicovsky.
Listen to 'Sugared Up' here.
For more of the absolute best new music go to Dummy's Spotify and follow Brand New: The Best New Artists.