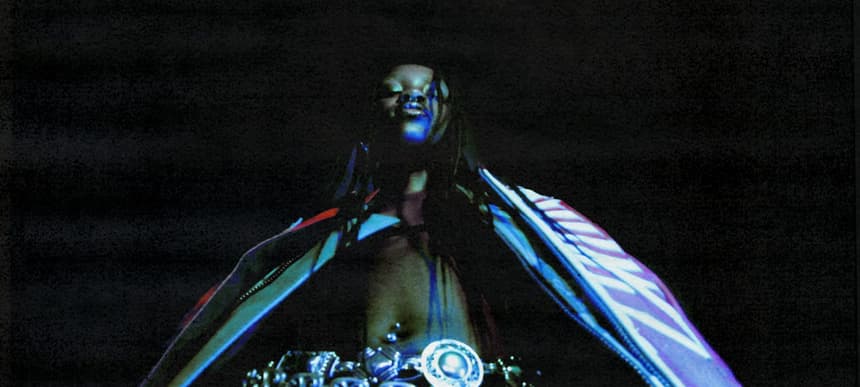 19.11.2021, Words by Maisie Goulsbra
Talia Goddess' debut EP 'Poster Girl' is an amalgamation of psychedelia, hip hop, bebop and more
...Navigating her personal and artistic identity
Nineteen-year-old multi-hyphenate Talia Goddess debuts her debut EP 'Poster Girl', a body of music serving as a time capsule of her teenage and high school years. Co-signed by A$AP Ferg, she has already fronted global campaigns for the likes of Converse, Nike, Tommy Hilfiger, MCM and editorials with Vogue, refinery29 and i-D.
The NYC-born artist is an astute leader and cultural innovator, using words and music as a form of self-expression and tool to prompt change. The self-produced EP explores themes of love and loss, self-discovery, existentialism, and change as she navigates her personal and artistic identity.
The EP is volume one of a two-part EP. Volume one of the 'Poster Girl' EP is moody, soulful, and piercingly raw, pulling inspiration from Tyler the Creator, Childish Gambino, Kali Uchis, Sade, and The Internet.
Lead track 'Poster Girl', released as a single in the lead up to the EP, deals with coming into the public eye while 'Let Go' reveals an emotional side to Talia as she tells the story of releasing her grip on a situation to make room for self-growth. 'I'll Be Down' injects wistful strings and downbeat vocals with bursts of psych-soul drums and 'Never Wanna Fall', released as a single earlier in the year, takes reggae and spins it into a funky hip hop section that Talia raps on, cramming the pockets with infinite syllables and vigour. 'To Be Free' is a bebop jazzy number and '4U' is a slow burning track that melts psychedelia into hip hop. Last track 'Fantasy' fades out with floating harmonic vocal arrangements.
Surely one of the best debut EPs of the year – Talia Goddess is one to watch for 2022.
'Poster Girl' is out now on TRANCE RECORDS via DMY.
Listen below or stream via your preferred service here.
For more of the absolute best new music follow Next Hype: The Best New Music.