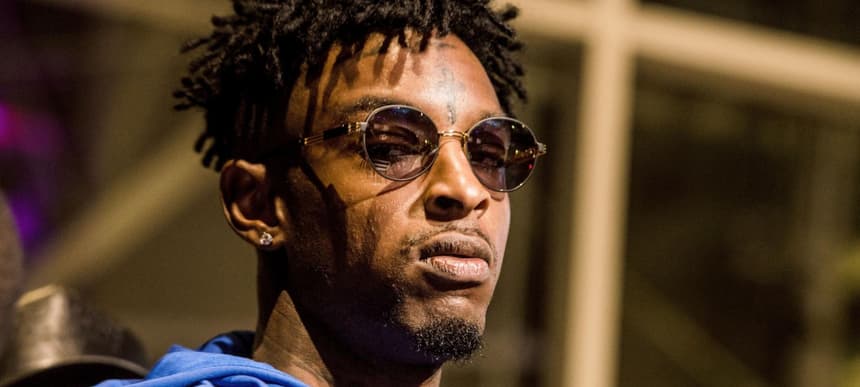 04.02.2019, Words by Felicity Martin
21 Savage arrested: US immigration say he is a "UK national"
US immigration (ICE) state that the Atlanta rapper has been unlawfully in the United States since 2006...
Atlanta rapper 21 Savage has been arrested by ICE (Immigration and Customs Enforcement) for being in the US illegally.
An ICE spokesman stated that the Grammy-nominated rapper, real name Sha Yaa Bin Abraham-Joseph, was a UK citizen who had overstayed the terms of his non-immigrant visa, which expired in July 2006.
The 26-year-old has been detained in Atlanta, with ICE stating he has been placed into removal proceedings: "ICE will now await the outcome of his case before a federal immigration judge to determine future actions."
While the arrest was initially thought to be part of a Superbowl-related operation, a reporter has said that it was because he was "in car with another hip hop artist who was subject of a local police bust".
It is being reported that rapper Young Nudy and two other men were arrested alongside 21 Savage at a traffic stop by Atlanta police, on Sunday 3rd.
The news has called into question the rapper's authenticity, as much of his lyrical content stems from him being from Atlanta, and he has long been considered a local act, as well as being active in helping the local community.
Abraham-Joseph appeared on The Tonight Show starring Jimmy Fallon last week, where he edited the lyrics in 'A Lot' to discuss the Flint water crisis and border control issues.
The rapper released 'Issa Album' in 2017, while his second album 'I Am > I Was' dropped in December 2018.
A number of US rappers have shown support for 21 Savage, including Killer Mike.
Update (06/02/19): 21 Savage has confirmed that he was in fact born in the UK, via a new statement from his lawyer.
After his birth certificate was sourced by Reuters, 21 has confirmed that he was born in Newham, London, and emigrated to the US when he was seven.
The rapper claims that his visa expired in 2006 "through no fault of his own", and that he had applied for a visa in 2017 after learning he needed one.
"Mr. Abraham-Joseph has three U.S. Citizen children, a lawful permanent resident mother and four siblings that are either US Citizens or lawful permanent residents. He has exceptionally strong ties in the United States, having lived here since he was in the first grade," the statement reads.
Update (08/02/19): According to reports, 21 Savage is being detained in Irwin County Detention Center outside of Atlanta, which has been accused of violating human rights.
Rolling Stone spoke to former National Security and Immigrants' Rights Project Director Azadeh Shahshahani, who described it as "a horrendous place and one of the worst immigration detention centers in the U.S."
More to follow…