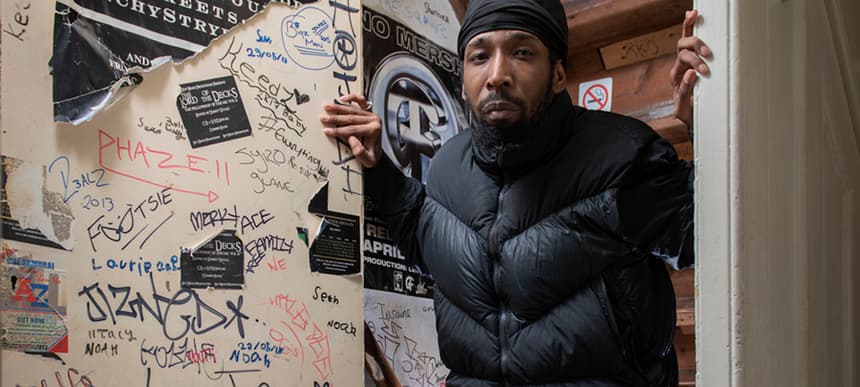 12.04.2022, Words by Billy Ward
A free exhibition exploring the emergence of grime is opening in the Museum of London
The display was co-produced by RiskyRoadz founder Roony Keefe
The Museum of London is spotlighting the people and places across East London that helped to shape the grime scene with a new display, titled 'Grime Stories: from the corner to the mainstream'.
Co-produced by one of the grime scene's most iconic camera men, RiskyRoadz founder Roony Keefe, the free exhibition partners with those who were in East London during the scene's inception and considers how the area has changed in the 20 years since, as well as mapping out the future landscape of grime.
"Grime's influence has changed music forever. This Museum of London display makes me feel proud to see grime's legacy acknowledged, knowing how far the scene has come and how essential it is to London's culture," said Roony 'Risky' Keefe.
Some features of the new display, opening 17 June 2022, include a panoramic illustration by artist Willkay, a series of newly commissioned films, and a series of personal artefacts that pay tribute to the parents, carers and youth workers who supported the city's grime MCs.
Also paying homage to the pirate radio networks that helped to platform artists in the early days of the scene, footage featuring Skepta and DJ Slimzee examines how these once emergent artists were able to find an outlet to share their music, uncensored through stations such as Rinse FM.
Speaking about the display, the Museum of London's Youth Culture Curator, Dhelia Snoussi, said: "By honing in on significant landmarks that nurtured the music, Grime Stories explores the relationship between sound and place and questions what the sonic consequences of urban generation might be for music in East London."
Entry to the display is free as part of your visit to the museum. You may wish to book a free general admission ticket to the Museum of London in advance, or there will be tickets available on the door on the day.
Read next: Manchester's new British Pop Archive to exhibit un-seen artefacts from Joy Division, The Haçienda and more