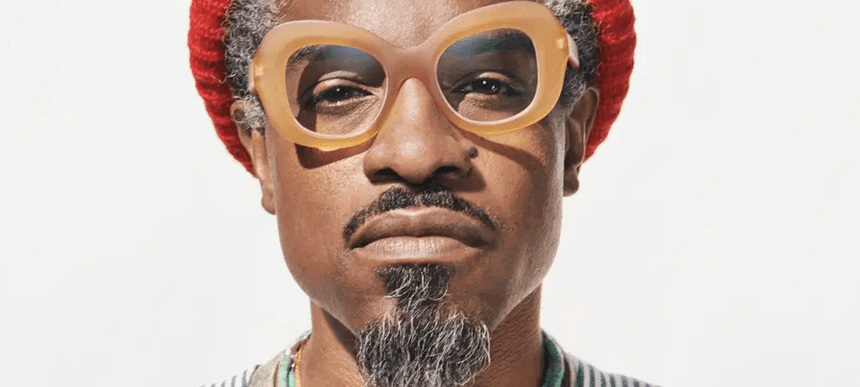 14.11.2023, Words by Billy Ward
André 3000 doesn't rap on his first album in seventeen years...he plays the flute
'I swear, I Really Wanted To Make A 'Rap' Album But This Is Literally The Way The Wind Blew Me This Time.'
André 3000 is releasing an album of new music for the first time in nearly two decades - but it's not what some people might be expecting. 
The project feature no bars, no beats, no sub-bass - and André doesn't sing at any point on the record either. In place of lyrics, André offers eight provocative song titles like: "I swear, I Really Wanted To Make A 'Rap' Album But This Is Literally The Way The Wind Blew Me This Time."
'New Blue Sun', set to be released this Friday, November 17, is a stunning 87-minute project of experimental flute music. 
"I've been interested in winds for a long time, so it was just a natural progression for me to go into flutes," André says. "I just like messing with instruments and I gravitated mostly toward wind."
Co-produced by Benjamin and lauded multi-instrumentalist Carlos Niño, and featuring the playing of Nate Mercereau, Surya Botofasina, Deantoni Parks, Diego Gaeta, Matthewdavid, V.C.R, Diego Gaeta, Jesse Peterson, and Mia Doi Todd, New Blue Sun is an entirely instrumental album centered around woodwinds; a celebratory piece of work in the form of a living, breathing, aural organism. 
André discusses the album — and "a myriad of other topics" on a 77-minute special edition of NPR's "All Songs Considered" podcast; listen here. 
'New Blue Sun' track listing:
1. I swear, I Really Wanted To Make A "Rap" Album But This Is Literally The Way The Wind Blew Me This Time
2. The Slang Word P(*)ssy Rolls Off The Tongue With Far Better Ease Than The Proper Word Vagina . Do You Agree?
3. That Night In Hawaii When I Turned Into A Panther And Started Making These Low Register Purring Tones That I Couldn't Control … Sh¥t Was Wild
4. BuyPoloDisorder's Daughter Wears A 3000™ Button Down Embroidered
5. Ninety Three 'Til Infinity And Beyoncé
6. Ghandi, Dalai Lama, Your Lord & Savior J.C. / Bundy, Jeffrey Dahmer, And John Wayne Gacy
7. Ants To You, Gods To Who ?
8. Dreams Once Buried Beneath The Dungeon Floor Slowly Sprout Into Undying Gardens