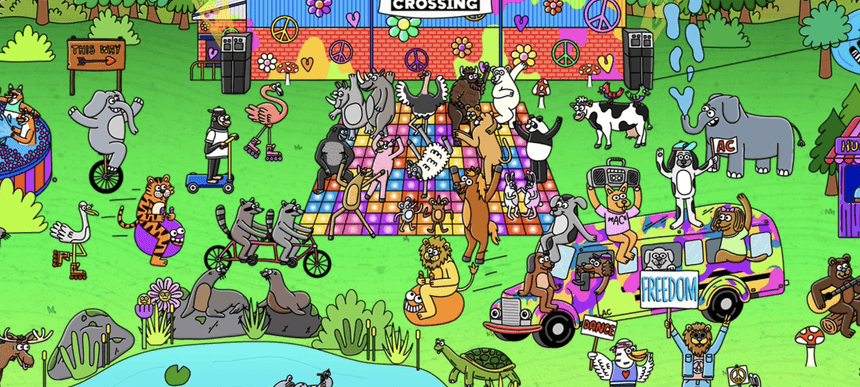 23.06.2021, Words by Billy Ward
Animal Crossing announce line up for Summer Of Love, a new electronic festival in the heart of Manchester
"The Summer of Love Festival represents our freedom, our connection, our artistic expression..."
A new two day music, arts and wellness festival is set to take place within the grounds of an abandoned warehouse in the heart of Manchester City Centre on the 21st-22nd of August 2021.
Organisers Animal Crossing have a history of putting on some of the UK's best underground events with their creative party destinations, and the newly announced Summer Of Love is their biggest project to date. Taking place over three bespoke stages, the festival reflects the Animal Crossing ethos of showcasing the finest talents in the funnest way possible.
On Saturday, Animal Crossing joins forces with Gottwood Festival who will take the reins in the Love Factory (Main Stage) with Romanian stalwarts Praslesh, as well as locking in performances from SIT, Priku, Sepp and Nu Zau. Headlining the second stage is Turkish wizard Onur Ozer, alongside the pioneering Evan Baggs, and exciting up-and-comer Ethel.
Sunday will see electronic outfit ARPIAR grace Manchester with one of their legendary back-to-back sets for the first time in over a decade. The trio of Raresh, Petre Insperecsi and Rhadoo are set to bring a fourth member, Dreamrec, who promises to provide a state-of-the-art visual performance to work in perfect harmony with the set, creating a full 360 degree experience. The Love Factory also welcomes fan favourite Dyed Soundorom, who will provide three hours of deep grooves before passing over to ARPIAR.
The second stage is packed with talent on Sunday as well, hosting performances from Josh Baker, French selector Charlotte, Truly Madly, and a world first back-to-back performance for Shonky & Traumer.
Speaking about the upcoming event, Animal Crossing states: "This is our moment to reunite, rejoice and celebrate the reopening of the world we love and have missed so dearly. The Summer of Love Festival represents our freedom, our connection, our artistic expression in an environment that has been created bespoke for the two-day music, arts & mindful experience. There is always a positive, always a light to shine brighter. It's all about the love. We can't wait to see you in August, let's dance like we mean it."
Full details on the line up and information about tickets can be found here.