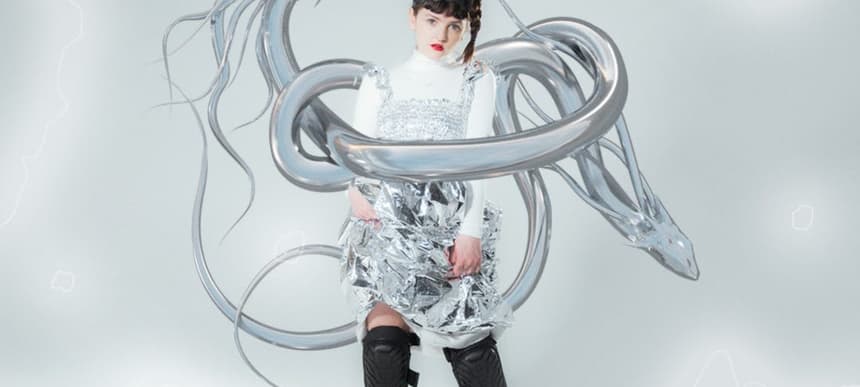 20.07.2021, Words by Maisie Goulsbra
BABii's other-worldly album party, out the back of a transit van
Mysterious investigations have taken place around a (cancelled) funfair, and children have been reported missing
Electronic music artist BABii has announced an album party, which by the sounds of it, is set to rival landing on the moon – but with ice cream. In the lead up to the event, the artist has shared news of a (cancelled) funfair, mysterious investigations, missing children reports, and a hotline to call: (01274) 066477.
THE MiiRROR ALBUM PARTY GETS MORE EXCiiTiiNG BY THE DAY!

The ice cream man is coming!

iive been workiing hard programmiing my show, doiing liights, buiilding a dragon, makiing puzzles, practiiciing my butt off, tryiing to make thiis show super speciial. pic.twitter.com/ox9Zk4WTsF

— ᑿᕠᒂᓿᓮ (@BABii_mp3) July 8, 2021
BABii's sophomore album, which was released earlier this year, is a truly magical atmosphere of sparsely distributed whispers, twinkly synthesisers, and fragments of UKG. Like the late SOPHIE or Iglooghost (one of the album's collaborators), production this forward-thinking and surreal makes for the perfect soundscape to an imaginary world.
BABii is providing her fanbase with more than music and a place in which fans can crack the enigma code of her latest album, 'MiiRROR' – the event will take place this weekend in Ramsgate from the back of a transit van – part of an alternate reality game, which you can follow on BABii Discord.
Her nomadic and creative background was the foundation for which to explore a story full of demons and junk yards and "the duality of emotions: good and bad, light and dark" across the album's ten tracks.
The event will feature DMY artist Samuel Organ and will also be available to livestream.
Stream 'MiiRROR' on your preferred streaming service here.
Buy tickets to the album launch here.
For more of the absolute best new electronic music go to Dummy's Spotify and follow 'Electronics'.