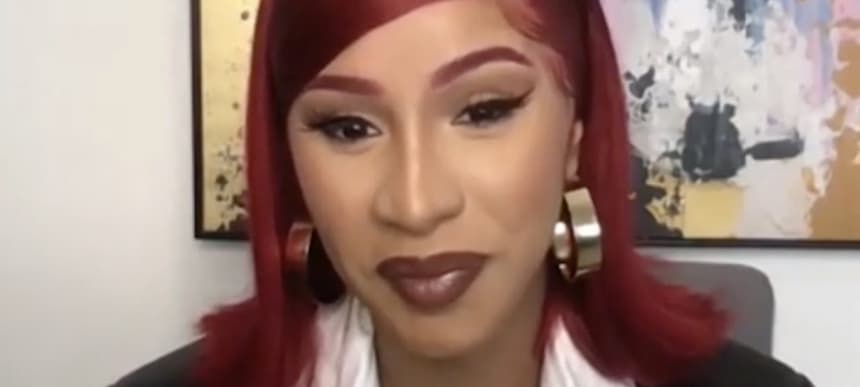 18.08.2020, Words by Billy Ward
"[Black people] are asking for fairness, and we are asking for justice": Cardi B talks to Joe Biden
In a new interview, the Bronx rapper spoke about Trump, education, motherhood and coronavirus
Cardi B has spoken with Joe Biden in a recent interview, asking the Democratic Presidential candidate about issues to do with the coronavirus, racial equality, free college tuition and more.
Having previously endorsed Bernie Sanders before he opted out of the election, the Bronx rapper has now pledged her allegiance to Trump's most significant rival in the upcoming November vote.
In the video interview, Cardi made clear that she "just wants Trump out".
"His mouth gets us in trouble so much. I don't want to be lied to – we're dealing with a pandemic right now, and I just want answers, I want to know when this will be over," she continued. "I want to go back to my job."
The pair spoke about the prospect of free healthcare and free college tuition, after Biden previously promised that students from a family making less than $125,000 would not have to pay for their education.
Biden continued to emphasise the power of the younger generation in swinging the election away from Trump: "Your generation and the young millennials beyond that, they can own this – they are the ones who could change things dramatically if they show up and vote," he said.
Cardi went on to raise the issue of racial equality, highlighting the Black Lives Matter movement and the death of George Floyd in May.
"I feel like Black people, we're not asking for sympathy, we're not asking for charity, we are just asking for equality," the rapper said. "We are asking for fairness, and we are asking for justice. That is all. I feel like everything people are asking for is getting interpreted in a very different way. No, it's simple: We just want justice. We want to feel like Americans."
After recalling his time growing up during the civil rights movement, the Democratic candidate stated that he was optimistic for the future of the country due to the political awareness of the younger citizens.
"You're the smartest, the best educated, the least prejudiced, and the most engaged generation in history. And you're going to change things. I really mean it!" he said. "I'm not trying to be nice. And by the way, the rest of the world has always looked to us. Why? Not because we're so powerful. But the power of our example.
"Look what they're seeing now with this president," Biden added. "He's promoting hatred, prejudice, racism. Talking about protecting the Confederate flag when Mississippi takes it off their flag. This is all about the game of making people hate each other. Because that's how he wins, by dividing us. Your generation is changing it."
Watch the full interview below:
Read next: Carole Baskin slams "lurid" video for 'WAP' by Cardi B and Megan Thee Stallion