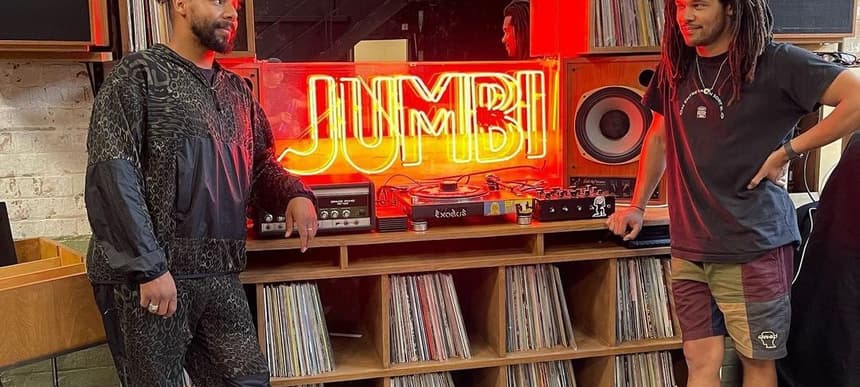 06.07.2022, Words by Billy Ward
Bradley Zero and Nathanael Williams launch Peckham-based Hi-Fi music bar Jumbi
Peckham's newest music venue encourages "deep listening" experiences via a single-turntable system
Rhythm Section founder Bradley Zero and The Colours That Rise producer Nathanael Williams have opened a brand new Hi-Fi music bar in Peckham named Jumbi.
The South London venue is currently undergoing a soft opening month and features a Hi-Fi, one-turntable setup built into a bespoke booth and vinyl library, including Zero's entire personal record collection.
Jumbi isn't trying to be a nightclub, instead, the new venue is presenting itself as a hangout spot based around music and Afro-Caribbean food and drink. The single turntable concept is an attempt to encourage deep listening and prioritise selection above mixing – guests will be invited to select records from the collection and curate different listening experiences each night.
A statement on Jumbi's Instagram page about its recent launch weekend reads: "Thanks so much for the love and support and for turning up in style to our launch weekend. It's been a month of blood sweat and tears – so to see so many beautiful faces having a good time in the new space overwhelms us with joy.
Special shout to the staff who rallied together with minimal training and provided such impeccable service and flavours. Also hats off to the selectors who went above and beyond to elevate vibrations on the single turntable set up.
We'd also like to stress that this month is a SOFT OPENING month – we're a totally independent, grassroots organisation – as such there's no playbook. 2 brothers with no investment on a wing, a prayer and a whole lot of helping hands. We're aware there's much to tweak and finesse: the sound system will evolve over time, menus will grow, systems will be put in place as we learn, evolve and adapt. During this time, your constructive feedback is crucial and necessary for us to be the best we can. Don't hold it back ! Slide in the DM's with insights & experiences."
To find out more information about opening times in the coming weeks, follow Jumbi on Instagram.
View this post on Instagram
Read next: GETME! announce June residency at Tola Peckham to fundraise for War Child