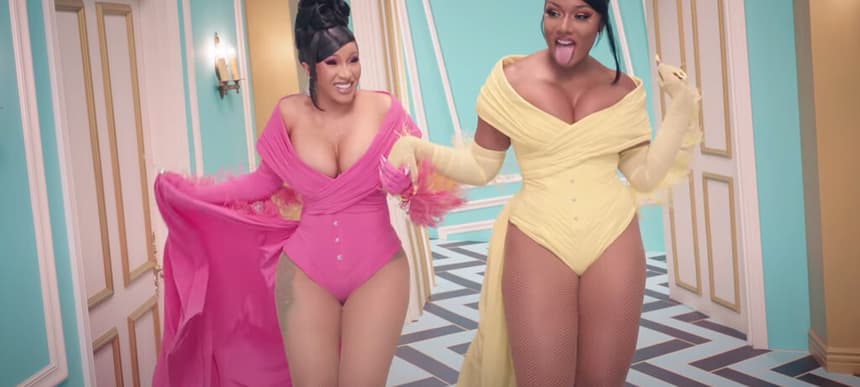 20.08.2020, Words by Billy Ward
Cardi B and Megan Thee Stallion are giving away $1 million to "powerful women"
The rappers have retweeted numerous women posting about the $500 they received
Cardi B and Megan Thee Stallion are celebrating the success of their record-breaking single 'WAP' by giving away a million dollars.
The song shot to number 1 in the Billboard Top 100 chart while racking up an impressive 93 million streams in the United States after its August 7th release date – the highest amount ever recorded in an opening seven-day period.
"Y'all made 'WAP' amazing," Cardi B told her followers on Twitter yesterday. "We're partnering with Twitter and Cash App to give away a total of $1 million dollars to celebrate all you powerful women out there. Tell us why you or a woman you know can use a piece of the $".
The two rappers have since retweeted numerous women posting about the $500 they received.
YOOO IM LITERALLY CRYING THANK YOU SO MUCH 😭😭😭 @iamcardib 💓💓💓 IMMA RIDE OR DIE FOR U NO MATTER WHAT I HOPE YOU KNOW THAT !! pic.twitter.com/V5qAjTnF63

— d ✧ (@lrrepIaceable) August 19, 2020
A hot topic of debate since its release, the track's sexually explicit nature has been championed by many as a feminist masterpiece, however, it has also received a considerable amount of backlash from those on the right-wing end of the spectrum and beyond.  Tiger King's Carole Baskin recently labelled the song "lurid" while speaking out against the use of wild cat imagery in the music video.
In a new interview, Cardi B continued her involvement in political matters by interviewing Presidential candidate Joe Biden. The pair spoke about Trump, the Black Lives Matter movement, college tuition and much more.