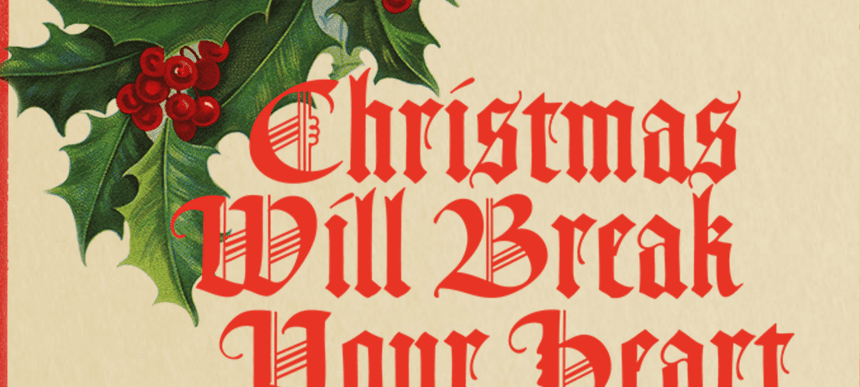 28.12.2015, Words by dummymag
Christmas round-up
While one eye was on the turkey this Christmas, our other eye was searching (and hoping) for gifts coming from long lost relatives and friends we had not heard from for a while. Late on Christmas Eve, Uncle James Murphy was the first to present us with a surprise, sharing the first original LCD Soundsystem song in five years. Titled Christmas Will Break Your Heart, Murphy shared the track through social media channels, and via a rebooted website with the following note (it can also be streamed here):
"so, there's been this depressing Christmas song I'd been singing to myself for the past 8 years, and every year I wouldn't remember that I wanted to make it until December, which is just too late actually to record and release a Christmas song… but this year, Al Doyle had a short break between hot chip tours where he could be in NYC, and Pat and Nancy were home, and Tyler agreed to fly out from Berlin for a few days, so we all recorded this together, reserved a pressing plant slot, and our friend Bob Weston was available to master it quickly—so that means, less than 2 weeks after we recorded it, there is actually a Christmas 7", which feels like something that could only have happened a very, very long time ago.
Anyway, for the holidays we give you the previous, very long run-on sentence, and this song: "Christmas will break your heart", which is another one of those songs that had about 75 lines of lyrics though we've knocked down to 8 to keep the suicide rate in check.
Have fun!"
Earlier this year, you may remember reports of U.K. bookmakers suspending the betting on Radiohead writing the theme song for the most recent James Bond movie Spectre. Christmas morning proved that some players were right all along, with Thom Yorke revealed on Twitter that they did record a song (titled Spectre) though "it didn't work out" and Sam Smith's Writing's On The Wall was used instead. Listen to Spectre above and grab a free download on Radiohead's Soundcloud.
Run The Jewels clearly has the best name to make fun of when it comes holidays and celebrations (Run The Ghouls, Run The Yules). El-P and Killer Mike launched a new advent calendar through their website on Christmas Day and are giving away presents and merchandise to fans across 12 days through email submissions and using #12DaysOfRTJXmas on social media platforms. Enter the contest and learn more over on Run The Jewels' website. And that's not all: yesterday (December 27th), El-P posted a new snippet of a track that is set to be featured on the duo's upcoming album 'Run The Jewels 3' ('RTJ3') – check it out on El-P's Instagram page below.
Sadly, following an exciting netroots campaign, Stormzy's bid to get Shut Up to Christmas No. 1 – and "Bun X Factor" – didn't happen. That honour went to The NHS Choir, who was neck and neck with Justin Bieber in the final days before the Canadian pop star asked his fans to back their campaign. However, Stormzy can still hold his head high with a respectable final entry of No. 9, beating X Factor winner Louisa Johnson with her cover of Bob Dylan's Forever Young, which landed at No. 12. To thank everyone for their support, on Boxing Day, Stormzy shared a new track with Chipmunk titled Hear Dis, which you can hear/watch above.
As previously reported last week (December 22nd), Kelela released her 'Hallucinogen Remixes' EP on Christmas Day, after previewing the short-player with an edit of All The Way Down by Kahn, with additional vocals from GAIKA (listen to the full EP here). Elsewhere, there was previously unheard material from Grimes and Toro Y Moi, a cover of White Christmas by Mac DeMarco, and The Weeknd uploaded two new tracks featuring Future and Jeremih to his Soundcloud.
Music never sleeps, but you do. A very Happy New Year to all our readers.