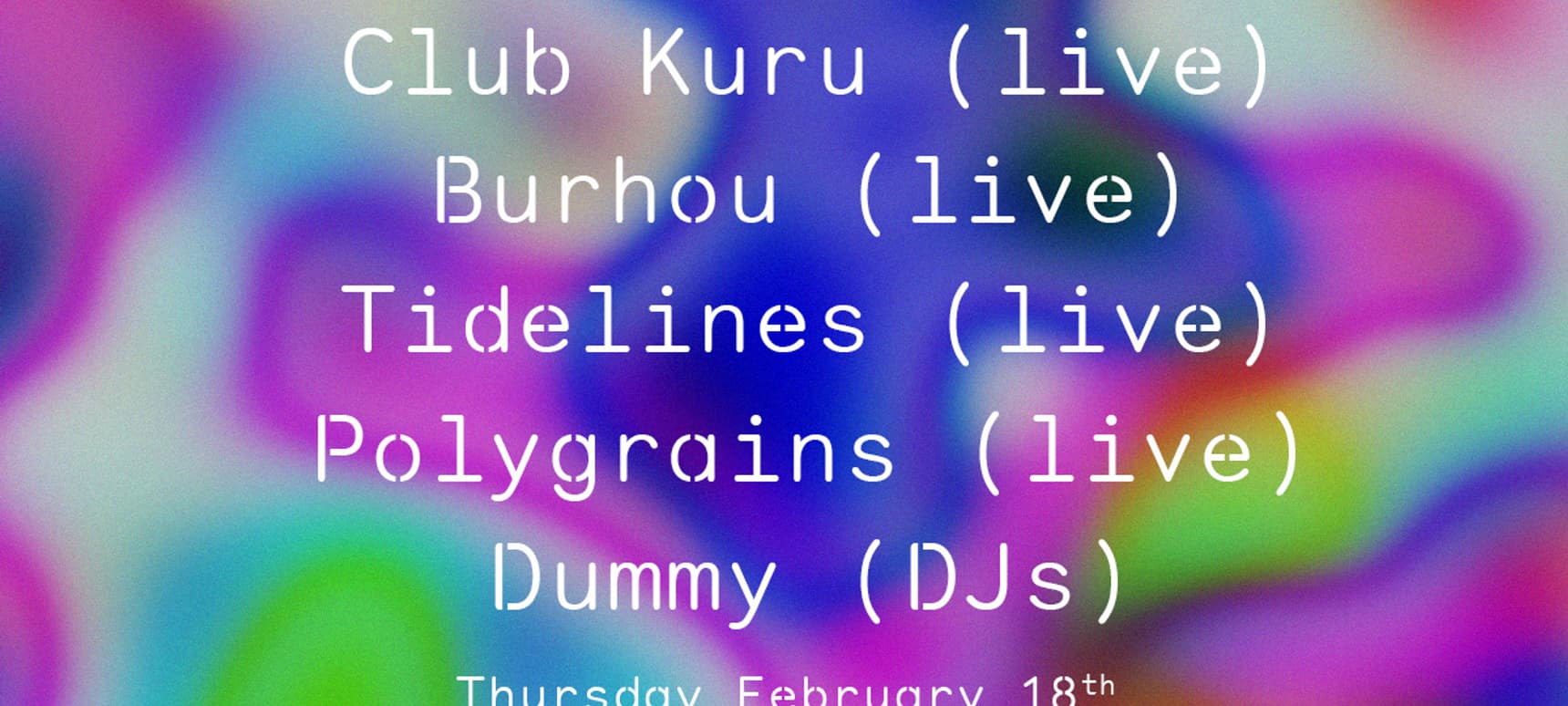 04.02.2016, Words by dummymag
Dummy Presents: Club Kuru, Burhou, Polygrains & Tidelines
For our second London show of February, we welcome a bevy of London's most exciting emerging live acts into the Miranda basement at Ace Hotel London Shoreditch.
Starting out as a jazz musician, Club Kuru (aka Laurie Erskine) eventually had enough of the loneliness that can came with his work. After a go on his brother's production software he was hooked. Club Kuru was open for business. He's since become a sweetheart of the blog world with his unique brand of sugary electronica and ultraviolet synth-pop.
London duo Burhou – who have previously worked with artists like Royce Wood Junior and Billie Black – debuted with their 'Lola' EP early last year. A groovy yet melancholy sound, their work is enveloped in deep emotion, making them the perfect soundtrack to a late night in the basement.
Another London duo, Tidelines, came to our attention last year with their soft as a pillow track, How To Love Me, showcases how the boy-girl pair draw on influences from both sides of the Atlantic to create their sound; looking up to artists such as Arca, London heavyweight label Night Slugs and American R&B songstresses Tinashe and Cassie.
Polygrains is a Greek musician living in London who comes highly recommended by Dummy favourite, Larry Gus. Real name Vasilis Moschas, he works, as many artists do today, as the sole musician, singer, producer, and record label of his music. Although he studied jazz at the Contemporary Conservatory of Thessaloniki, he also graduated from the London College of Music with a degree in Popular Music Performance. Honing in his personal brand of bleep bloop psychedelia, Polygrains' music is so inherently pleasing on the ears you don't actually notice how technically and structurally accomplished it is, with incredibly acrobatic vocal melodies showcased throughout.
Musical intervals come courtesy of Dummy DJs and as always the event is free of charge, so come and shake a leg. More info here.
Dummy Presents: Club Kuru, Tidelines, Burhou, Polygrains at Miranda, Ace Hotel London on February 18th (free with RSVP).