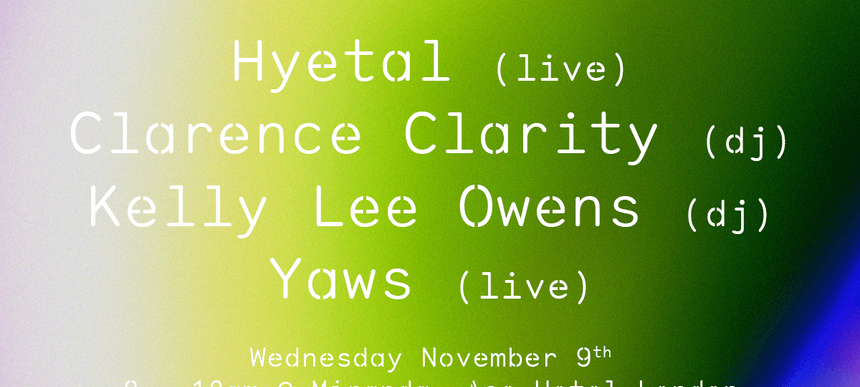 11.10.2016, Words by dummymag
Dummy Presents: Hyetal, Clarence Clarity, Kelly Lee Owens and Yaws
After a brief break in October, Dummy Presents returns to the Miranda, Ace Hotel London to kick off November with some of our favourite live electronic artists right now.
First up, we welcome Bristol producer Hyetal who first made waves on local dubstep offshoot label, Punch Drunk, before taking debuting on Black Acre and True Panther with his trademark sound of introspective and immersive electronic music.
Leading the way with his debut album 'No Now, which was released last year on Bella Union, we've also got DJ sets from Dummy favourite Clarence Clarity and the Pure Groove shop assistant turned fully-fledged techno producer and vocalist, Kelly Lee Owens, who has already collaborated with the likes of Daniel Avery and Ghost Culture.
Last but not least, Purely Physical producer Yaws (aka Dominic Stephens) will be on hand for a live show, expertly led by his own brand of experimental noise and techno.
As always, entry is free with a simple RSVP and you can keep up to date with announcements on our Facebook event page.
Dummy Presents: Hyetal, Clarence Clarity, Kelly Lee Owens and Yaws at Miranda, Ace Hotel London on November 9th, 2016 (RSVP).