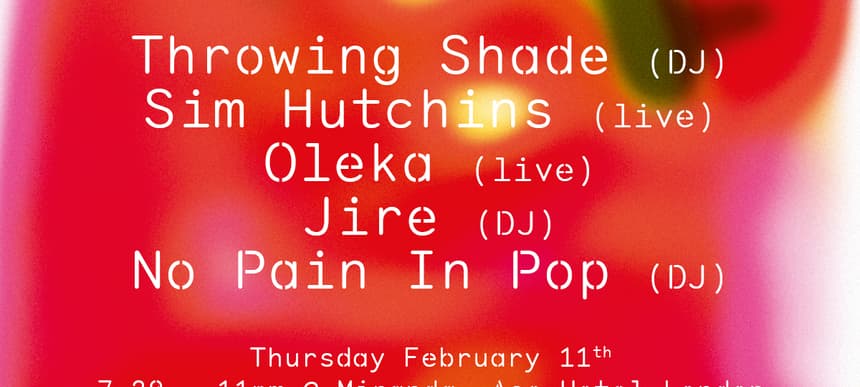 28.01.2016, Words by dummymag
Dummy Presents: No Pain In Pop at Ace Hotel London
For the first of our two February shows at Miranda, Ace Hotel London, we welcome one of the city's finest experimental electronic labels – No Pain In Pop.
Founded in 2008, the South East London based "polystylistic" label has gone from strength to strength in its near decade in existence; focusing on the sort of leftfield music that retains melodic and modern aesthethic (aka the stuff you actually want to listen to).
Heading up the Dummy Presents bill is queen of eclecticism and global gems, Throwing Shade. As well as putting out releases on labels like Bristol's Happy Skull and No Pain In Pop, she's also a DJ – with a biweekly slot showcasing some of her favourite global sounds on NTS, as well as sets at progressive London parties like Tropical Waste.
Self-proclaimed electronica, ambient and weird-techno producer Sim Hutchins dropped his debut album 'I Enjoy To Sweep A Room' on No Pain In Pop back in November. A fetishist for bad gear, Sim will bring his live set to Miranda, complete with road man gloves.
Oleka are a South London-based quartet that "make night music; songs to make you reflect." Still very fresh on the scene, the Dummy Presents show will be an early live performance for them and not one to miss.
DJ support comes from young South London based composer Jire and the No Pain In Pop DJ troupe. More info here.
Dummy Presents: No Pain In Pop on February 11th at Miranda, Ace Hotel London Shoreditch (free with RSVP).