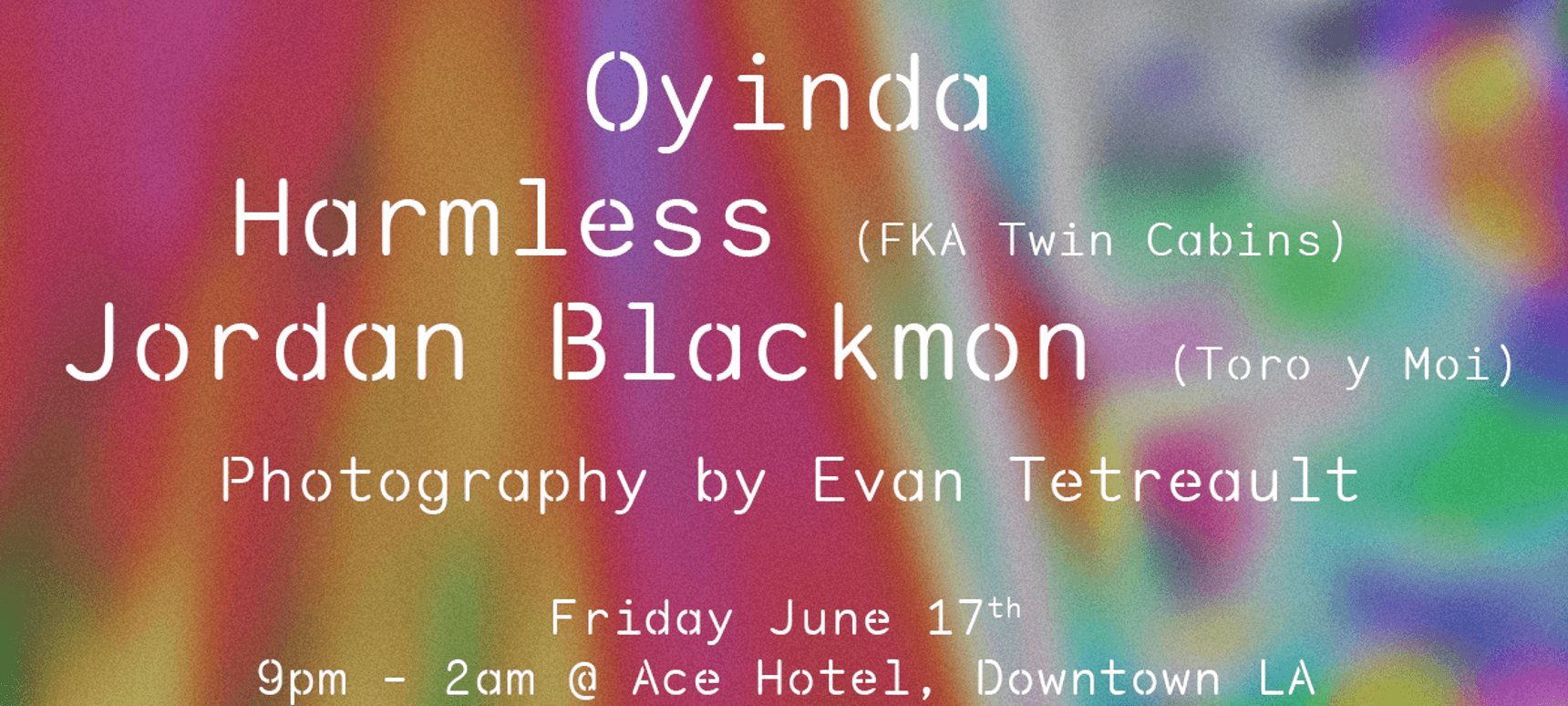 07.06.2016, Words by dummymag
Dummy Presents: Oyinda at Ace Hotel Downtown Los Angeles
Tucked into the skyscrapers and Jewelry District of the city, Dummy teams up Ace Hotel Downtown Los Angeles to present Oyinda on June 17th. Featuring live performances by Oyinda, Harmless (FKA Twin Cabins, and a DJ set by Toro Y Moi's Jordan Blackmon – the night will be accompanied by projected photography from LA based artist Evan Tetreault.
Enigmatic Nigerian and London raised singer-songwriter and producer Oyinda continues to make waves within the US and UK with her forthcoming 'Restless Minds' EP, which is expected June 10th on her own label Blood & Honey. Singing with a perseverance and candor all of her own, Oyinda brings a tempered elegance to the forefront of electronic R&B.
Harmless (FKA Twin Cabins) is Mexican born and LA based producer, Nacho Cano, who makes music that rests on the memory of decaying and iridescent '80s pop. His lush dance-pop is combined with horns, sax, and trumpet to sculpt a unique batch of imagery all. Utilising lithe and effervescent synths, Cano's ability to create colorful music with relatable lyrics make him difficult to turn off.
Lastly, guitarist of Toro y Moi and Pussy Wizard, label owner of Fork & Spoon Records, and talented photographer Jordan Blackmon will be on DJ duties. Having traveled around the world, Blackmon's record collection knows no bounds and having garnered a following in L.A., the selector promises to deliver the very best downtime soundtrack.
Boston born LA based visual artist by way of Hartford, Connecticut, photographer Evan Tetreault will provide visual art on the evening. Utilising cool white tones in contrast with warm colors and hints of black shadows, Tetreault focuses on more candid moments. Having shot and worked with the likes of A$AP Rocky, Lorde, and many others – Tetreault's perspective is unique and awe inspiring.
As always, the event is free with a simple RSVP. You can keep up to date with announcements and set times on the Facebook event page.
Dummy Presents: Oyinda on June 17th at Ace Hotel Downtown Los Angeles (free entry with RSVP).