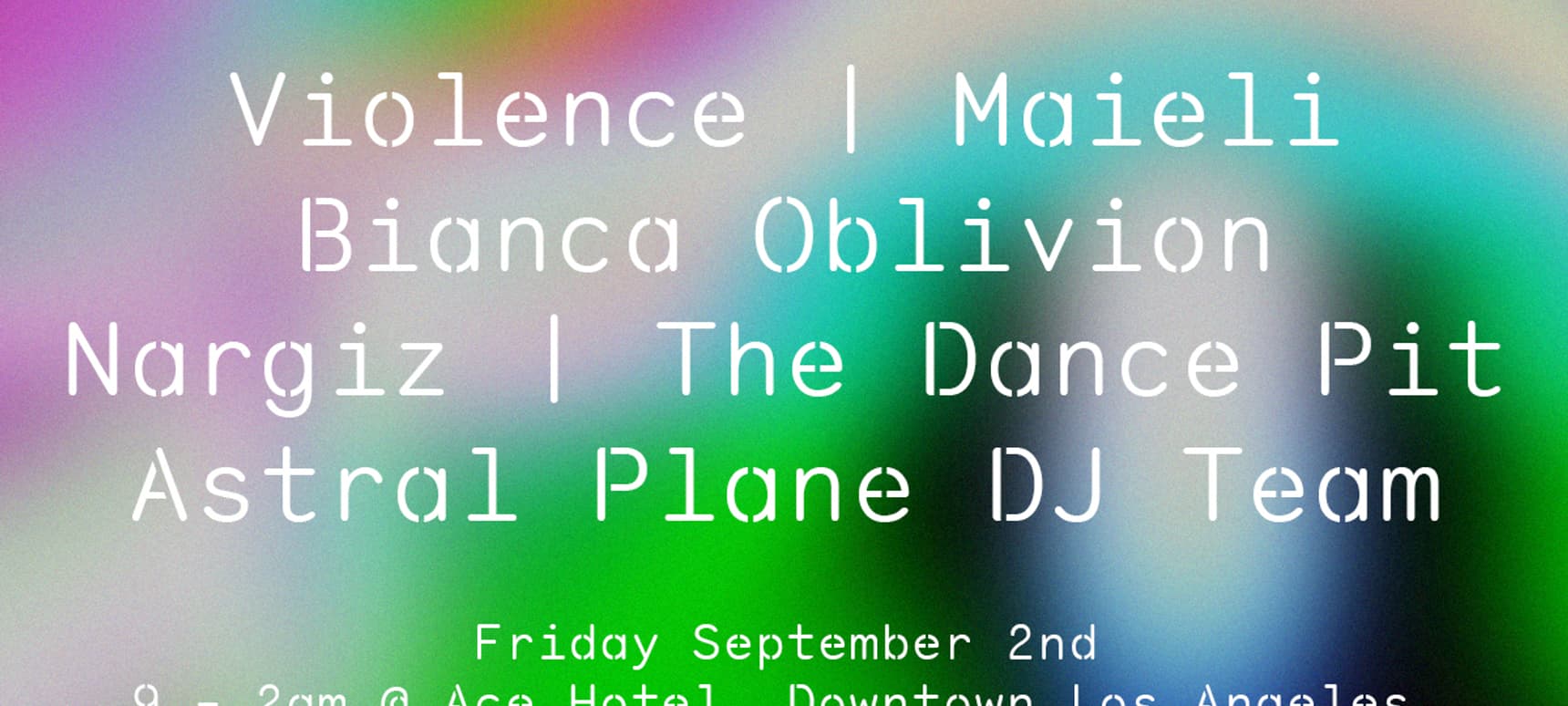 22.08.2016, Words by dummymag
Dummy Presents: The Astral Plane at Ace Hotel DTLA
We return to the Ace Hotel Downtown Los Angeles in September with breakout online music platform and label, The Astral Plane.
Producing antiquities of the future since 2012, the label has been home to releases from the likes of Nunu, Organ Tapes, Chants, SHALT, and more. They also host The Astral Plane show on Radar Radio, and have contributed mixes for Symbols and the Into The Blue show.
Joining us for this September show upstairs at Ace Hotel will be Violence, Maieli, Bianca Oblivion, and The Astral Plane DJs.
Blurring the lines between organic and electronic compositions, Violence's production touches on noise and industrial, which often feature his own vocals and guitar work. With previous releases on Chino Amobi's NON Worldwide and Mykki Blanco's Dogfood Music Group, expect a kinetic performance from this promising DJ and producer.
Maieli is a DJ and producer who works with everything from hip hop to Bollywood film music. Contributed an excellent effort to 8ULENTINA's 'Dismiss U' compilation, which was released on Tobago Tracks. She has also done production work for Horsepowar, and put out a number of mixes which filter her Colombian and Indian roots into a whirlwind of hi-energy, dancefloor-focused blends.
A member of Club Aerobics crew (alongside Ducky and Suspect Bitch), Bianca Oblivion is one of LA's go to DJs for late night energy, both in legitimate venues and warehouse settings. Playing a range of material from baile funk to ballroom and jungle – she also makes own blends, which are often the highlight of her sets.
Bonus additions: Seeing as it's still summer and we love you dearly, Nargiz and The Dance Pit have just been added to the line-up!
Originally from Azerbaijan, Nargiz is a Philly based DJ with a globe-trotting streak. Known for her Heat Ritual parties and her contribution to 8ulentina's 'DISMISS U' compilation, Nargiz also spent some time living in Tokyo where held down a residency at the city's Laguna Bass nights before returning to the States. Adding to The Astral Plane's illustrious mix series in anticipation to next month's party, we're counting down the days 'til she brings her addictive blends of R&B and unique club-ready sounds to the fore.
Based between New York and London, The Dance Pit is Anuradha Golder, who is fast becoming a notable figure in the progression of clubs as safe spaces. Putting together what is described as "a curation of beats, noises, sounds intersecting under the veneer of "dance" music" on her SoundCloud, The Dance Pit also contributed to The Astral Plane mix series on the same day as Nargiz, which we can only see as a blessing from the skies. Listen in, and get ready for September 2nd.
Further support comes from the Astral Plane DJ Team.
Keep up to date with further event announcements by joining the Facebook event page.
Dummy Presents: The Astral Plane on September 2nd at Ace Hotel Downtown Los Angeles (free with RSVP).