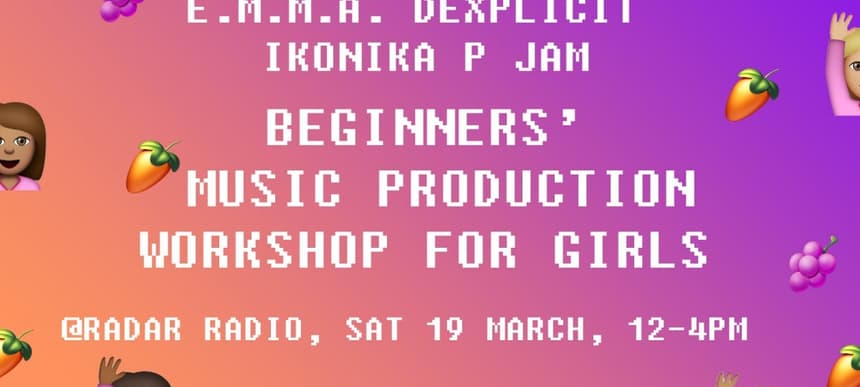 11.02.2016, Words by dummymag
E.M.M.A. teams up with FL Studio and Radar Radio for a female focused music workshop
London based producer, Keysound regular and co-host of Angel Food radio show, E.M.M.A., has just announced an exciting music production project in collaboration with Radar Radio and Image-Line, the makers of FL Studio.
On March 19th, she will be joined by iconic grime producers Dexplicit, P Jam and hybrid-club producer Ikonika for a day long production workshop that aims to teach girls the basics of music production. The workshop, which will take place at Radar Radio's London studio on Saturday 19th March, aims to give girls with an interest in learning music production access to the expert advice and equipment they need to get started.
The free workshop will run from midday until 4pm on Saturday March 19th at Radar Radio on Timber Street, London. To register interest, email emmaproducer@radarradio.com by Friday March 11th. Participants will need to bring their own laptop, a USB and headphones. Spaces are limited, but if the interest is high, there may be more regular sessions on the horizon.
No boys allowed.
In E.M.M.A.'s own words:
"I've built a dream team of amazing producers with Dexplicit, Ikonika and P Jam to encourage more girls to take up music production. If we create a fun environment together with the tools, expertise and support needed to get people off the starting blocks, I think we could be onto a good thing. Everyone will get 4 months full access to FL Studio software for free so that they can make a few bangers before summer."